A keynote project in which students create professional documentaries based on the "Survivor Circles" experience & showcased in a beautiful community-wide Film Festival as the hallmark of a newly written literacy-based, student-centered curriculum for Modern Jewish History that integrates academic skills with primary sources.
Entry Narrative
I would like to take you on a journey.  The journey I am taking you on is through that of my tenth-grade Jewish history class at the Fuchs Mizrachi School in Cleveland, Ohio during the 2017-2018 school year.  But in reality is a journey through the modern story of our nation.  It is the story of a people with a legacy of heroism and faith and strength amidst the most unimaginable circumstances.  It is the story of how a small, yet mighty, people built a nation even when the odds were stacked against them.
It is my journey.
It is my students' journey.
And it's exactly how I begin this course.  I ask my students to take a journey with me.  
______________________________________________________________________________
My submission to the Kohelet Prize this year is twofold: the first is the keynote project in which my students created professional level documentaries based on the scripts (PDF example) they wrote about the interviews they conducted at our Survivor Circles meetings and showcased in a beautiful Film Festival at our school; the second is the creation of a course that buttressed this dynamic project within the history that surrounded the Holocaust: early Zionism and the creation of the Modern State of Israel.  
Ready for the journey?  Here's the story:
__________________________________________________________________________________
In three years of teaching in a Modern Orthodox, Religious Zionist day school I have had the pleasure of meeting colleagues from across the nation (and the world) through various programming opportunities where we discussed Zionism.  For many of us, our struggles were similar: foundationally we believed in Zionism yet most of our students only encountered Zionism in an academic setting as a class on campus advocacy near the end of their academic careers.  They were missing the profound history of the Zionist movement that began in the mid-nineteenth century.  At Fuchs Mizrachi, we decided to tackle this issue by restructuring the tenth-grade curriculum to address modern Jewish History.  The task of restructuring the tenth-grade course fell to me.  The product is the creation of a new course which I proudly titled "Early Zionism, the Holocaust and the Creation of the Modern State of Israel" and my compilation of a workbook that not only framed the history through the use of primary sources but addressed essential literacy skills.  In reframing this course and creating the subsequent project I was inspired and pulled by the words of Rabbi Jonathan Sacks when he wrote that "To be a Jew, now as in the days of Moshe, is to hear the call of those who came before us and know that we are the guardians of their story."  This journey is an attempt to help my tenth graders become the guardians of the Jewish story.
_______________________________________________________________________________
Working with the Facing History and Ourselves organization transformed my approach as an educator to not look at teaching as "how can I possibly get my students to memorize and digest as much history as possible" but to ask deeper, more focused questions that aimed at making my students more responsible citizens of the world.  This course would have evovled in a definitively different manner if not for the Facing History approach.  It gave me and my students a new lens with which to view our study of history.  While I have been involved with Facing History for the majority of my decade long teaching career, it was not until the summer of 2016 that I went to my first Holocaust and Human Behavior workshop in Cleveland.
Read more about Facing History and their integral role in helping shape the pedagogical principles used in framing this course and project.  Discover how the "Scope and Sequence" and "Pedagogical Triangle" within Facing History's approach can reshape your thinking about your history/humanities/english classroom.  Scroll to the bottom to learn my reasons why you should bring Facing History into your classroom.
My first year teaching Jewish History was a transtional year as we aimed to provide students with a curtailed version of the future 9th and 10th grade courses all in one year.  To do this I co-taught with my colleague Rick Schindelheim.  Today he continues to teach the 9th Grade Jewish History course he recreated and I teach the 10th Grade Jewish History course I created.  But back in the 2016-2017 school year when we taught in one classroom, we had a short unit on the Holocaust which focused largely on a project that asked our students to look through survivor testimony on the USC Shoah Database (it is a phenomenal tool for you to explore in your classroom) and using the technology built into their website students were able to create a short video about the Holocaust.  While I enjoyed that project, when faced with creating a keynote project for our new course that debuted in the 2017-2018 school year I wanted something bigger.  More meaningful.  More powerful.  More entertaining.  I wanted to make sure that the project I created not only helped my students to learn the history – or stories – of individuals who had survived the Holocaust but I wanted them to hone their written, verbal and technological skills.  The pivotal moment in the creation of this project came when I was approached by my administration about the PFLI grant (read for info on how you can get it too) available through Facing History to Jewish day schools to help pay for the tools employed in pulling off aent it off and wait  So I wrote the grant. We sent it off and waited for a reply.  When we were awarded the grant I was elated because it meant that I could dream big.  Here is what I created:
The cornerstone of this project was to build an authentic experience for my students to have intimate conversations with Holocaust survivors that they would document through film.  Students would then use this footage working with a documentary filmmaker to create their own documentaries about the Holocaust that would be showcased in a community wide Film Festival on the evening of Yom Hashoah.  
Within our study of the Holocaust, we (my students and I) hosted an event called "Survivor Circles".  Visit the link to see the in-depth thought process to how the Survivor Circles came to be.  Essentially it was about transforming the experience of "hearing a speaker" which so many Jewish students have done in the day school setting.  But hearing one speaker in a crowd of one hunrded or so students is not what I wanted as the cornerstone experience in our curriculum.  Survivor Circles was about pairing small groups of students with a single survivor and allowing them a large chunk of time (ninety minutes) for an intimate discussion of the survivor's story and the questions that students had generated through our classroom preparation for this event.  That day was the most magical day I have had as an educator (link to my reflection on that day).   See these conversations using the links below:
For six weeks during the early spring students worked with documentary filmmaker Mike F.  using Adobe Premier to create documentary films that answered the following essential question:  "As Jews, what is our obligation to the memory of those who suffered in the Holocaust?  What are our responsibilities to ourselves, to our community, to the Jewish people, and to the world?"  The purpose of the project was to build understanding and empathy for the experiences of the people who are witnesses and/or survivors of the Holocaust.  In doing so, we can attempt to provide a sense of justice to those who suffered by giving voice to the legacy and memory of the Jewish experience in the Holocaust.  The task was for students to work in pairs to create an original video documentary that integrated their answer to the above essential question with their knowledge of the Holocaust and the survivor testimony they recorded in their Survivor Circles.  Students were also welcome to bring in any survivor testimony from our course of study, their own families or any additional reading they chose to complete.  They were required to incorporate relevant and inspirational clips of testimony from at least two individuals.
As part of their documentary creation the Facing History PFLI grant gave us the opportunity to invte two individuals from Lake Erie Ink (a local writing workshop clinic) to host a clinic exclusively for our tenth grade students to teach them how to write a script for their documentary projects.  All students were expected to create a written script for a peer editing process before beginning to create their documentaries.  Please see the following examples:

PDF = Student Example – Project Script A
PDF = Student Example – Project Script B
PDF = Student Example – Project Script C
PDF = Student Example – Project Script D

The culmination of these projects was a Film Festival [PDF = Night of Film and Reflection Program].  It was important to me that the night made the students feel like true artists (filmmakers) and that the event was a respectable and elegant platform for showcasing these projects.  I wanted the students to feel the importance of their project.  For weeks I planned an opening night that aimed to be a community event.  We ordered elegant invitations and sent them out to parents, teachers, community members, and our guests of honor – the survivors who were the subject of our documentaries.  The response was overwhelming.  The students ran the entire event.  They began by greeting individuals at the front doors of our school, guiding them towards the film area, setting up the films and running the show by sticking to film times.  Like a true film festival, each film had two showtimes and participants could attend films in four simultaneously running theaters (i.e. classrooms).  Following each documentary  students answered audience questions about the process, creation and meaning of their films.  It was a phenomenal evening and by the time the dessert reception commenced I was beaming at the overwhelming about of positive feedback about how eloquently my students presented themselves, the sophistication of their documentaries, and the quality of their work.  I was so very proud of them.  What was more important was how amazingly proud they were of themselves.  It's been almost seven months since our opening night and my students are still talking about their documentaries.  Of course, the day following our opening night, students completed anonymous reflections answer the prompt: "Last night I felt...".
___________________________________________________________________________
I chose to enter the Real World Learning category because this project was about the human connection between two generations of the Jewish world.  But really, these documentaries can have anyone on the other side.  What if we took the time in our lives to have authentic and intimate conversations with those whose stories we don't really know.  How much more real would our relationships with our neighbors be?  Our families?  Throughout this project I was so thankful – along with my students – to hear the incredible individuals we invited share their stories but I was awe-struck at the fact that on any other day I might have passed them by in the street and not had the realization of the depth of human experience they had endured.  I wanted to teach my students to look for those moments, those stories.  Facing History was a tool I used to help me do that.  Beyond that, it was the tools and processes that we undertook to make this project happen that inspired me to choose this category.  We went beyond typical classroom learning to study filmmaking.  It was a difficult process.  For my students it was new because the technology was just as foreign to me the teacher as it was to them and I created my own film right along with them.  It taught my students that they can handle anything that comes in front of them.  We had to tinker and learn together.  There were times when they were each others' teachers.  That's what learning looks like after our years of structured schooling.  It's about asking the deeper questions and our curriculum asked students to ask those difficult questions.  It gave them the tools to understand the context of the Jewish world we live in today and to have true understanding and respect for those that gave their everything to create a safe haven for the Jewish people – the state of Israel.  Ultimately, it made the students consider what it would mean for becoming the leaders and history makers of the next generation.
_______________________________________________________________________
As educators we strive to create authentic experiences and meaningful projects for our students to hone their skills, explore new talents and learn about themselves.  What I found was that this entire endeavor taught me so much.  Today, I'm looking up at a framed photograph from our Survivor Circle. In it the survivors are laughing amongst each other as we tried to snap some pictures.  The level of impact for me as an individual was tremendous: to hear their stories, to facilitate this experience, and to be a student of history right along with this exceptional group of young people has truly been one of the pinnacle moments of my career thus far.  Moving forward, here at Fuchs Mizrachi I'm running the course again.  But, ultimately, I'd love to give you the tools to recreate this program in your school.
Thank you for the opportunity.
Entrant Bio(s)
Anna Bolman is a teacher at the Fuchs Mizrachi School. Since coming to Fuchs Mizrachi in the Fall of 2016, Ms. Bolman has taught AP United States History, AP/Honors Government, Jewish History, Zionism, and English as well as coaching the Model UN team for two years. She taught for four years at Beth Rivkah High School for Girls in Crown Heights as well as several years in the New York City public schools before moving to Cleveland and joining the staff at Mizrachi.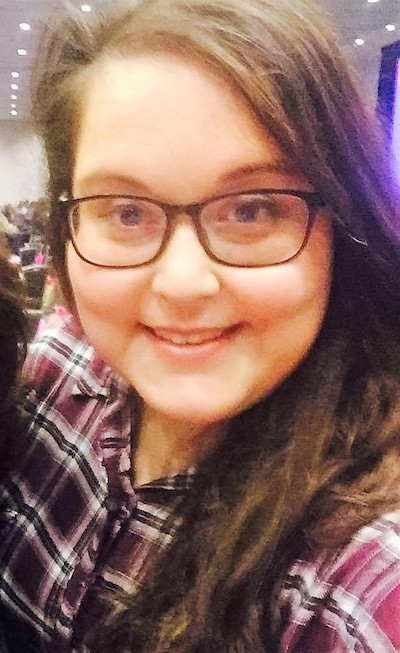 This entry has been tagged with the following terms: