In my AP Language and Composition class, which combines grades 11-12 at our girl's campus, there is a pervasive theme in each of our texts this year. It is carpe diem, seize the day, or a lack of carpe diem. In order to truly understand this theme my class worked on a project to describe, create, and share their thoughts about this concept.
Entry Narrative
Seize the day, carpe diem, what does this idea mean to you? How can you connect this concept to Judaism? In our AP Language and Composition course we are constantly analyzing ways to understand texts and derive a greater meaning from the works that we are reading. Over the summer our class read I am Malala and The Narrative of the Life of Frederick Douglass and during this year we have read Antigone and The Death of Ivan Ilyich. In all of these pieces the people/characters have choices and realizations about carpe diem. Our class furthered our investigation of the life lived by one of these people with a field trip to Frederick Douglass' home.
Connecting with the concept of experiential learning, our class began to explore how they could seize the moment in their own lives. To both analyze and synthesize this theme the students had to create their own carpe diem representations. Therefore, making meaning out of this idea.
This project could be connected to any level of any class. Carpe diem is a theme that is found in many historical movements, in many literary pieces, and connects with ideas around thanking Hashem for this day as one wakes and many other ideas in Judaism.
Project Organization
Find a connection between your class and this idea of seizing the day
Discuss this theme
Assign students to creatively work on representing this idea. Here is the assignment that I used for my class. Click here for the assignment and rubric https://docs.google.com/document/d/1IQ5R7mXNTNdbfv-ccm8Y23yHxOndAl5ZPwlLxvp5-BI/edit?usp=sharing
Document the products because they will be beautiful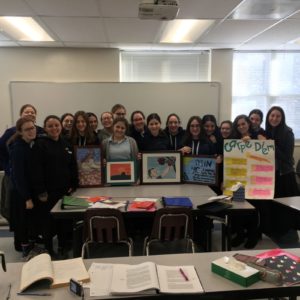 Celebrate and carpe diem
Here are some of their end products: https://drive.google.com/drive/u/1/folders/1SpQY7mOJr3cilsmRdhk8ZH_aD4gZeQ7h
and here are some of the videos that some groups created:
Entrant Bio(s)
Meghan Jacquot has taught for ten years in three different regions of the USA. She has worked in Illinois in traditional public schools, in California in private and charter schools, and for the last two years has been teaching at the Yeshiva of Greater Washington in Maryland. She is curious and loves to learn and is enamored with both the humanities and science. She has a bachelor's and masters degree in education and enjoys learning from her students and incorporating their interests into her lessons.
This entry has been tagged with the following terms: