The Virtual Jerusalem Mayoral Elections allowed 12th-grade students to explore the diverse, real-world needs facing Jerusalem residents and the multicultural nature of the city, through researching different candidates and issues, creating campaigns and taking a leadership role in their own learning, running mock elections for a different grade.
Entry Narrative
When designing the Virtual Jerusalem Mayoral Elections unit for my 12th-grade Contemporary Israel class, I had the following goals in mind:
Students should gain real-world knowledge and understanding of the issues facing Jerusalem today, including its governance, security, economic needs, and religious and political conflicts.  

Students should understand the challenges and advantages of Jerusalem's multiculturalism and the diverse needs facing its residents.  

Students should gain the interest, tools, and background necessary to feel at home discussing Jerusalem politics and be able to apply these skills to understanding the nature of Israel's national elections, as well as local and national elections in the United States.

Students should become excited about this topic and passionate about understanding Israeli politics; inspired about the potential impact they can have applying their new knowledge as future immigrants to Israel or engaged observers in the Diaspora.

The learning in class should be dynamic and student-led, and incorporate aspects of inquiry-based learning and project-based learning, providing an authentic real-world learning experience for the students.

Students should take an active and leadership approach to their own learning, and be asked to present and teach this topic to younger students, through running model elections for a different grade.
Project Outline:
1. Student Inquiry:
Using the model of inquiry based learning, students came up with their own questions about elections in Israel and Jerusalem.
Questions discussed included:
How do Jerusalem based mayoral elections work?

Who are the candidates and what are their platforms?

What are the most important priorities personally for you when choosing a candidate?

What would be the most important priorities for different Jerusalem residents when choosing a candidate?

What are the issues and challenges that exist uniquely in governing Jerusalem?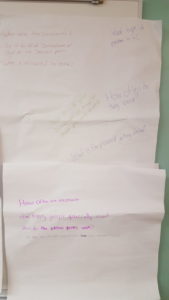 2. Jerusalem Resident Priorities Survey:
In groups, students completed a survey ranking the issues most pressing to them as potential voters in the Jerusalem elections. These priorities included cleanliness of the city, bringing new start-ups/boosting the economy, creating affordable housing for young residents, improving the conditions of East Jerusalem Arab neighborhoods, secular-religious issues, and Jewish-Arab relations.
In a class discussion, students reflected on the priorities they chose, providing a window into the issues real Jerusalem residents struggle with and the authentic issues facing the city. Students were able to see alternate opinions and how some students prioritized maintaining the Jewish character of the city, while others felt strongly about creating a more pluralistic environment. Others shared how it was important for them as city residents to care about the Arab neighborhoods, while additional students stated that affordable housing should come before anything else in setting up a hierarchy of needs.
3. Student Choice – Campaign Sign-Up:
Students then watched short campaign videos from the actual Jerusalem Mayoral elections to gain perspective on each candidate's personal platform and chose which campaign they would like to work for, providing for student choice of a candidate who matched their personal priorities. The candidates included: Ofir Berkovitz, Moshe Leon, Yossi Deutsch, Ramadan Dabesh and Zev Elkin.
4. Publicly Presented Project and Accountability:
The culmination of the project would be students running mock Jerusalem mayoral elections for the 11th grade Hebrew language classes. Students would also hear from a guest speaker, Dan Illouz, who had worked on the campaign of Ofir Berkowitz (one of the Jerusalem candidates for mayor), who would answer student questions and help them compare their election experience with what happened in the real elections in Israel.
This integrated aspects of Project Based Learning into the assignment, including student voice and choice, a publicly presented project and sharing their findings with an authentic expert in the field.
5. Research Project – Campaign Planning:
Students were divided into separate campaign groups and provided with class time to create a campaign for their candidate. Students received information packets with project guidelines, as well as articles and video links to supplement their own candidate research.
Each group was responsible for the following:
Preparing an information sheet about their candidate, to be handed out to the 11th graders during the election. This information sheet included information about the personal and political background of the candidate, their election platform, endorsements, thoughts on the religious-secular issues facing Jerusalem, and how they differ from other candidates.

Creating a powerpoint slide with a picture of their candidate and their slogan, to be projected during their presentation.

Choosing a video of the candidate to show during the elections, framing it with an introduction explaining the message the candidate is trying to send, and which Jerusalem residents he is addressing.

Each group assigned members to different roles and responsibilities for the actual election.

One student would be the candidate and would prepare a speech, submitted in advance.

One student would be the campaign manager and would prepare talking points to use during the election to convince 11th graders to vote for their candidate.

One student would be a Jerusalem resident voting for their candidate. This student would prepare a narrative explaining their backstory and why they were choosing to vote for this particular candidate (ex: A Ultra-Orthodox man who wants to work and support his family, a young couple thinking of leaving Jerusalem because of lack of housing…).
6. Critique and Revision:
During the time assigned for group work, every group met with me twice to go over their campaigns and receive feedback on how to improve their work. This included suggestions about content to include and additional issues to mention in their campaign. Each group then submitted their work to me through Showbie or Google Drive and received additional written feedback, until their final iteration was ready to be presented.
7. Final presentations:
On the day of the election, students helped create a ballot box and print yellow ballots, while turning the auditorium into an election hall. The different groups took turns presenting their candidates, giving speeches and introducing actual campaign videos about their candidates to the 11th graders. Each 11th grader was given a booklet made up of all of the information sheets of the different candidates, put together by the senior class.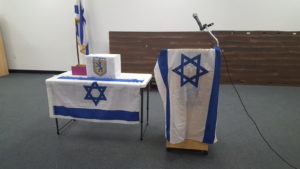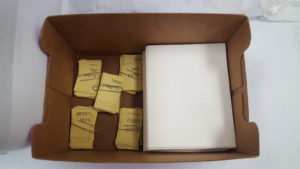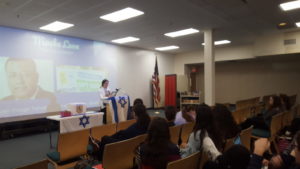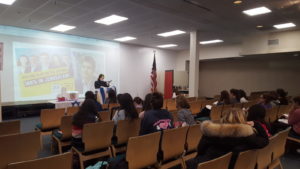 After the presentations, the 11th graders were encouraged to mingle around the room and speak to the candidates, campaign managers and different Jerusalem residents (all in costume and character), to ask questions and get more information before going to vote. Then, 11th and 12th graders both went to the polls, authentically recreating the voting process that exists in Jerusalem, complete with yellow ballots, envelopes for each ballot, and a decorated box.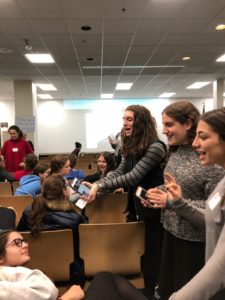 As in the actual Jerusalem elections, since no candidate received 40% of the vote to win, there was a runoff election between the two top candidates (Zev Elkin and Ofir Berkovitz) which was done through a Google form sent out that night. The winner (Zev Elkin) was announced through email.
8. Student Work:
I am including copies of student work here, including candidate slides, candidate information sheets, campaign speeches, and voter profiles.
Candidate Slides (projected during presentations):
Information Sheets (handed out to the 11th grade), Voter Profiles (for the interactive part of the elections, when 11th graders could engage with Jerusalem residents voting for specific candidates) and Campaign Speeches (made by the candidates during the presentations):
9. Debrief and Reflections:
At first, both 11th and 12th graders debriefed together about the candidates, the questions they now have about Jerusalem mayoral elections, and what surprised them about the candidates and the issues facing Jerusalem as a multicultural city. Then, I debriefed separately with my 12th-grade class about their experience participating in a campaign, their takeaways from the process, and their questions and reflections about Jerusalem mayoral elections. This involved students filling out a Google form to help them reflect on the project, followed by a class discussion. I am including some of the responses to the questions below.
How did this project change your understanding or appreciation for the needs of residents or Jerusalem and what they are looking for in a candidate?

Eliana: I literally didn't know anything about these elections before or that they even existed so everything we learned was new and exciting to me. I didn't realize that Jerusalem was so dirty and I also didn't know that it was so poor.

Avigayil: It seems like a major issue is how to keep people in Jerusalem and how to continue growing as a city rather than maxing out now. They're not looking for crazy things, it's a nice thing that so many people want to live there.

Naomi: It exposed me to the types of problems that Jerusalem is trying to solve.

Gila: It brought attention to specific issues like housing which I never thought about as a problem for residents.

Sarah: It showed me that every country's values are different. In the United States, a mayor might be asked his thoughts on taxes or infrastructure, whereas in Israel he is asked about his thoughts on garbage pickup.

Amira: They have very different issues to deal with than we do. For example, they are dealing with how to handle the Arab- Israeli situation or that they need to clean up the city. Here, we deal with very different things.

Leah: A big concern is how much of the state and government should be religiously observant. This really made me think about my own opinion on whether or not Israel should be completely religious or secular and where to draw the line.

Elianna: It gave me a deeper understanding of the struggle that the Arabs go through just to live in Jerusalem.
What is the most important takeaway you have from this project?

Mia: I learned about issues in Jerusalem that I would not have known otherwise – such as the issue of young people leaving Jerusalem.

Avigayil: That there are a lot of issues that need to be solved in Jerusalem but it's always directed more at problem-solving for Jews than Arabs.

Eliana: The immense diversity of the city of Yerushalayim and its unique needs.

Maya: It is extremely important to vote because it can really make the difference.

Sarah: That Israeli politics are very different from the US but ultimately everyone is just looking for someone who has their issues in mind.

Gila: There are many issues for the individual cities apart from the global Israel issues.
I also asked the 11th grade Hebrew language teacher for her reflections. She ran a separate debrief for the 11th grade in her class the next day about reasons why one might select one candidate over another, the diversity of the candidates and how the different process and means are different in elections in Israel from those in the United States.
Merav Tal-Timan, Hebrew Department Chair:

I was happy to be invited to take part in the culmination of a unit about the local elections in the city of Jerusalem. In it, I witnessed the tremendous amount of background knowledge the students managed to learn and the enthusiasm they felt towards it. Sarah's students were educated on the different candidates, their personal and social background, political ideology and rationale in addition to the overall political atmosphere in Jerusalem and in Israel. They were able to transform that knowledge into an interactive presentation and educate my students on each and every aspect of the candidate's political agenda. I noticed how my students were engaged and excited about the different presentations and in our class discussion afterward, in their questions and overall enthusiasm for the process of learning.
10. Real-World Application:
The 12th graders then had the opportunity to hear from guest speaker Dan Illouz, a Jerusalem city council member who worked on Ofir Berkowitz's mayoral campaign. They were able to discuss with him how their campaigns and candidate reflections compared to what happened in the actual elections, connecting their knowledge to a real-world setting. Students also appreciated hearing how a Canadian immigrant became involved in Israeli politics and about similar paths they could take if inspired by participating in the mock mayoral elections.
11. Final Thoughts and Personal Reflections:
Overall, I felt the project was successful and met its goals. Students were engaged and excited about the topic and became much more invested after the critique and revision stage of the project, putting in the effort to improve their campaign and asking probing questions about their candidates, sometimes disagreeing with the way certain issues in Jerusalem were being addressed. I was excited that the project allowed the students to take control of their learning instead of frontal teaching, and the public presentation element added a new sense of accountability for the students.
This assignment also fit nicely into the goals of Ma'ayanot's Contemporary Israel course, which strives to teach about Israel and Zionism in a nuanced and comprehensive way, showing the different opinions and narratives that exist, in order to develop thoughtful and reflective Israel advocates. I was impressed to see that many students became sensitive to the issues facing the Arab neighborhoods of East Jerusalem, and felt that Ramadan Dabesh was a compelling candidate, who could promote more coexistence between the Arab and Jewish residents of the city.
Additionally, students became very excited about following Israeli current events in the news, sharing articles about the runoff election that happened in Jerusalem between the two top candidates (Moshe Leon and Ofir Berkovitz), and their own analysis of which endorsements would go to each candidate, applying their knowledge from the project to being able to consume, understand and form opinions on real-life Israeli politics. One student shared how prepared she felt in discussing the candidates with her sister, who lives in Jerusalem and would be voting in the runoff mayoral election. This was also seen in our class discussion with Dan Illouz, with students being able to compare their election results with what actually happened, and seeing a potential path for themselves in local Israeli politics. The excitement and discussion of Israeli current events have continued, raising our level of discussion as a class, as students bring in articles about continuing election drama in Israel, applying their local Jerusalem election knowledge to the conflicts that exist around the governing of the Knesset.
I believe that this project is very replicable as a model to study about any election while creating high levels of student engagement and real-life learning, whether it be Israeli Knesset elections for the entire country or local or national elections in the United States.
I would work on a few things in order to improve the project in the future. While the presentations were engaging and fun for the 12th graders, I would provide more guidance to frame the program better for the 11th graders who participated in the election, having them spend more formal time in class learning about the election and candidates in advance.
I would have liked to make the unit more interdisciplinary, but unfortunately, due to time constraints, this was not possible this year. The Hebrew teacher for the 11th grade ran a Memrise lesson on election terms in Hebrew with her class in advance of the mock elections, and a Kahoot explaining the difference between national and local elections in Israel. In future years, I would have the Ivrit teacher co-teach the information about the elections with me to both classes, integrating the Ivrit and Israeli culture aspects of that class with my Contemporary Israel class. I would also reach out to the U.S. Government classes to discuss ways to teach about the parallels and differences to the United States local and national elections and have more interaction between those disciplines.
Entrant Bio(s)
Sarah Gordon is the Director of Student Activities and Experiential Education at Ma'ayanot Yeshiva High School, where she also teaches Talmud and Israel Engagement and Advocacy. She spent two years studying in GPATS, holds dual MA degrees in Jewish Education and Modern Jewish History from Yeshiva University, and is working towards an Ed.D at Azrieli Graduate School of Education. She has spent time studying in education programs in Israel at Midreshet Lindenbaum, Pardes and Matan and is the recipient of the Grinspoon-Steinhardt Award for Excellence in Jewish Education.
This entry has been tagged with the following terms: