To conclude our nutrition unit, I challenged my 5th graders to each design a tasty, healthy snack for kids which would be a good source of their assigned vitamin/mineral. Each student would present at our student-designed snack conference, to which we invited other classes. The whole creative process could be applied to various other subjects.
Entry Narrative
Introduction:
It was the end of December, and we were concluding our half-year unit on Nutrition. My fifth grade students had each written up a comprehensive paper on a particular vitamin or mineral. For a chance to develop their creative thinking while demonstrating their understanding of their vitamins/minerals, I gave the class a challenge. Individually, each student would develop the concept for a healthy, tasty snack which would be a good source of his assigned vitamin/mineral. They were to create everything but the actual food. Each boy would display his snack at a snack food conference. As a class, the boys were to totally design the conference, to which other classes would attend.
The Project:
Based on research of his assigned vitamin/mineral, each boy looked at his list of foods that are a good source of the vitamin or mineral, and brainstormed snacks that could be made. I gave the class guidelines for the project and the rubric which would be used in evaluation. Then, using various materials and working with Chromebooks, the students came up with ingenious snack ideas–such as Vitamin-K filled Kraunuts, a folic-acid filled Leafy Bar, zinc-rich Cherky, Gummios, a cheese potassium dip, Muscle Mix, a calcium mix, smoked-salmon teriyaki sticks, Orange Aid, Rubix Ultimate, Fit Bits, and more.
Creating the Conference:
Then, to choose committees for the snack food conference, the boys ranked their preferences on pollandmatch.com. The options were as follows:
Directors: name the conference, oversee the groups, and help where needed

Welcoming Committee: greet/stamp each guest, explain rules and expectations

Publishing House: design the brochure for the guests

Interactive Committee: come up with, and implement, an element of interactivity for the guests

Interior Design Team: create signs, posters, and decor for the conference

Set Up Team: map out the room and set up furniture
Student Impact:
Once the boys were told which committee they were in, they worked with excitement and independence, from start to finish, to plan for the conference. The students felt empowered with being in charge of running the conference. They felt proud of their creative work, excited they were able to share their creations with peers from the other classes, and happy to have an immersive hands-on experience.
Personal Reflections:
Personally, I loved seeing what the boys came up with. I was impressed with their ideas and inspired by their creativity. Also, I was surprised by how little help and intervention the boys needed once they were set. Of course, I watched carefully from a distance and answered questions they had, but I was amazed and pleased that 10-year old boys could carry out such a successful fair on their own.  
Moving Forward:
Later in the year, during our solar system unit, I used this same model for our interactive space museum. It was also a very successful, and I look forward to doing both again this year.
Entrant Bio(s)
Sari, an elementary and middle school teacher from New York, received her master's degree from Azrieli and her bachelor's degree from Stern, as well as a certificate in Experiential Jewish Education from Yeshiva University. While at college, she participated in a joint program with Fashion Institute of Technology, where she took classes in computer graphics and animation. She coauthored and illustrated Wordwatch, a book for teens about shmirat halashon, and she currently runs an Instagram page for thousands of viewers called That Jewish Moment, on which she posts drawings and captions illustrating special thoughts and moments in Jewish life. She loves to use her creativity and artwork to educate, entertain, and inspire.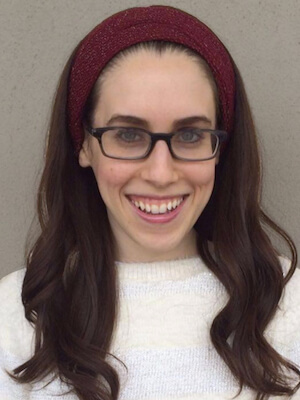 This entry has been tagged with the following terms: