Eighth grade students completed a project in STEM class, documenting throughout using the SeeSaw app's video and picture abilities, and crafted a non-fiction "narrative" in Language Arts class, where they followed the Teshuva process to "realize," and thus capitalize upon, their mistakes.
Entry Narrative
We often hear educational policymakers crying out for the promotion of creative and critical thinking in our classrooms. However, when students are tasked with critical thinking and creative projects, they are afraid to fail. In school and in life, we all deal with moments of frustration with our failures and pride in our successes. As middle school STEM and Language Arts teachers, we had been discussing the very-real (and very-disheartening) problem of a lack of students' "looking back" on their failures and successes, and subsequently failing to learn from them. We became worried when we both saw, albeit in decidedly different subject matters, the unfortunate consequences of students who were unable– or, perhaps, were never taught?– to learn from their mistakes and successes. We put our heads together, and realized that although the engineering, Teshuva, and writing/editing processes seem entirely unrelated, we could, in fact, collaborate in a productive way.
What came of this idea borne of frustration was the "Mishkeh (Mistake) Mechanic" and "Success Strategist" project, where our eighth grade students would complete a capstone project in their STEM class, and document the process throughout using the SeeSaw app's video, picture, and drawing abilities. Then, leaving the lab and entering the Language Arts classroom, students were charged with using the three-step Teshuva (literally, to return; repentance) process as a mental framework, and would craft a "non-fiction narrative" describing their capstone project. In this written response, students were required to critically and creatively analyze, and include detailed explanations of, their specific failures and successes within the lab. Whether wearing the hat of the "Mishkeh Mechanic" or "Success Strategist," students needed to think critically and creatively to craft a series of "next-steps" for themselves.
Ms. Sri, the STEM teacher, evaluated students on their design thinking by using their sketches, judging their collaboration during learning, and considering their creative and critical thinking approach to their designs and end products.
Ms. Landy, the Language Arts teacher, used this project as a medium through which she synthesized multiple writing skills, including having students vary their sentence syntax using different methods, embed appositives within the text, and keep their written response organized in a meaningful, but creative, way.
This wearing of the Mishkeh Mechanic (or Success Strategist) "hat" proved very difficult for our students, who are (were?) not used to failure. However, this was to be expected. Curiously, it was surprising to see how students approached their successes; it was quite challenging for the students to learn how to think in a metacognitive fashion, and even more difficult for them to figure out what led to their success(es) and to critically analyze other's paths to success. As teachers, we too, were excited (read: forced) to wear the Mishkeh Mechanic hat. Because we began with the end in mind, and our goal was a lofty but tangible one, we ended up learning an immense amount through the process. We saw our students grow exceptionally, and are so proud to know that this creative project inspired critical thinking within our students and ourselves. Ultimately, we plan on continuing this project, broadening it so all grade levels can use it to their advantages. Put simply: students in any grade can take part in a STEM-based project, learn from their failures and successes, and think critically and write about it later. We are so proud of our students who willingly and enthusiastically partook in this anxiety-provoking, but successful, cross-curricular project.
Entrant Bio(s)
Ms. Sri, as she is affectionately known, is a STEM teacher at JKHA. She loves learning and experimenting, is a NASA-certified STEM Teacher-Leader, and before joining JKHA's Middle School team, she taught in India, her home country. Ms. Sri is always excited to collaborate with others and is consistently bridging research practices and classroom learning .
Ms. Landy is a Language Arts teacher at JKHA. She is permanently curious about the world around her, loves reading and writing, and is a certified Google Educator. She works hard at taking "old" literature and making it relevant to today's society and the modern-day student.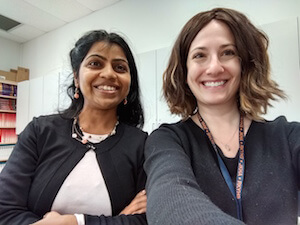 This entry has been tagged with the following terms:
21st Century Skills
,
blended learning
,
Constructivist
,
ELA
,
Engineering
,
English design-thinking model
,
experiential education
,
hevruta learning
,
Honorable Mention 2018
,
IBL-inquiry based learning
,
Kohelet Prize 2017-18
,
LA
,
Language Arts
,
PBL
,
Project-Based Learning
,
Science
,
social and emotional learning
,
STEAM
,
STEM
,
tech
,
UBD - Understanding by Design
,
whole brain teaching
,