Teaching hands on, real life medical ethics utilizating a major medical centers simualtion center, we bring students into the hospital, where they have the opportunity to learn how to participate in various cutting edge and routine medical procedures, as they encounter potential ethical issues in them and then study and discuss relevant Torah.
Entry Narrative
Last year (2017-18) I developed a new class for seniors at Shalhevet High School in Los Angeles, which became so popular that I am now teaching the course for both YULA boys and girls schools. Because I am a chaplain in a hospital I have access to our new state of the art simulation center, which is a licensed hospital space (it can take patients during an emergency), that includes ICU rooms, operating rooms, emergency rooms, labor & delivery etc    In addition to all of the necessary instruments and even fake patients that are so realistic that they bleeds, have blood pressure, organs etc. As well as clinical staff on hand to assist and help explain procedures
I teach the class utilizing the popular Michael J. Sandel Harvard "Justice" class model of giving students interesting real life ethical scenarios, discussing them, then, once the students are intrigued by the questions and want to find out classical/innovative answers, presenting and studying classical source material relevant to the questions at hand. The goal of this similar class (focusing on Jewish Law instead of American law/theory) is to take it a step further by providing  a uniquely educational and innovative simulated real life medical environment to entice students with hands on exposure to modern medical interventions, channel that interest and excitement to Torah literature, and take their analytical skills a step further by determining if the rabbinic rulings we study might require any revisions based on new medical interventions that they will see first-hand (while reading teshuvot referencing older technology or by those unfamiliar with certain procedures).
Teaching Jewish medical ethics has been suggested as an ideal method for uniting limudei kodesh and limudei chol  (https://www.yutorah.org/sidebar/lecture.cfm/838322/rabbi-dr-edward-reichman/teaching-medical-halacha-from-grade-school-through-college-the-ideal-way-to-unite-limudei-kodesh-and-chol/), I now take that to a new level by not just talking about medicine and Jewish Law, but actually experiencing it in the learning environment. some of the topics we  explore first hand include:
Respirator: Intubation/Extubation
Tracheotomy
Feeding Tubes (PEG, G-tube, NG tube, TPN etc.)
IV Lines
Dialysis
Organ Donation/Retrieval
heart, kidney, lung, etc.
D&C (abortion)
Autopsy
ECMO
Triage/ER
General Operating Room/modern surgery technology
Cardiac Arrest-resuscitation/Code Blue
Genetics and stem cell research/application, regenerating organs and new frontiers, clinical trials.
Vivarium (Animal Experimentation)
virtual reality surgery scenarios
Here are some photos from the first class, last year, as you can see, the students became extremely engaged: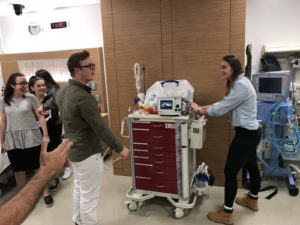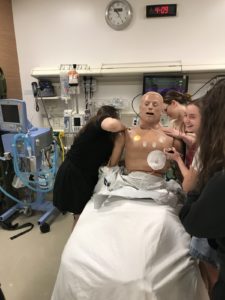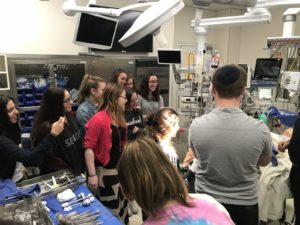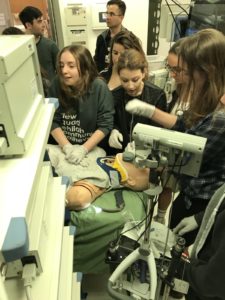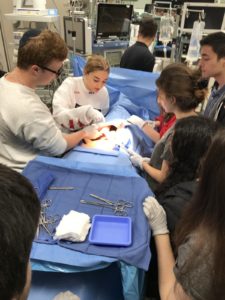 This entry has been tagged with the following terms: