LaHaV Learning provides content, technology, and training to transform Jewish learning and teaching in schools and communities throughout the world. LaHaV was founded to transform students from spectators to participants and to enable worldwide educational collaboration across disciplines, because Jewish ideas and values matter now more than ever.
Entry Narrative
A curriculum is more than just a good course – it's an integrated approach to education that provides structure for both learners and teachers. At LaHaV, we've developed spiraled curricula that introduce foundational concepts, build critical skills, and enable students to transfer their knowledge to new areas of learning and experience. Our interdisciplinary approach combines the best of educational theory with the richness of Jewish tradition to connect ideas, values, and texts across Gemara, Tanakh, Jewish Philosophy, and Israel Education.
What lies at the core of a curriculum? Jerome Bruner, one of the fathers of educational theory, wrote that a curriculum "must consist of learning initially not a skill but a general idea, which can then be used as a basis for recognizing subsequent problems as special cases of the idea originally mastered" (Jerome S. Bruner, The Process of Education (Cambridge: Harvard University Press, 1961), p. 17). In other words, curricula must identify core ideas and principles – general ideas – which can then be applied, built upon, and spiraled throughout the educational process. Yet Jewish education today – especially Talmud education – often fails to meet this criteria. Instead, all too often, Judaic studies courses consist of independent clusters of ideas and values, without sufficient structure to allow students to connect between them. 
We're changing that reality. At the core of LaHaV's educational approach lies the assumption that knowledge builds on itself, that transfer must be the central goal of education, and that Jewish tradition can inform our own lives and shape our relationship with the world around us. Take, for example, the narratives of Avraham at Sodom and the Akeida and the famous Talmudic principle of Lo Bashamayim Hi.  Should Avraham have protested the Akeida in the same way that he stood up to Hashem for Sodom? Part of the answer to that question must rely upon the Rabbinic concepts of autonomy from – and perhaps even opposition to – the Divine Will as expressed in Bava Metzia 59b.
Our students have spoken about the impact that LaHaV has had upon their own lives, as well as their understanding of Judaism and Jewish tradition, and we've won local recognition as well for our curricular work. Now we're ready to share LaHaV with an even wider audience.
Entrant Bio(s)
Dr. Noam Weissman is the Principal of Shalhevet High School. He is the Founder and Director the LaHaV Judaic studies curriculum and has taught Judaic studies courses for the last seven years.
Noam graduated Summa Cum Laude from Yeshiva University with a degree in history, after which he also received a Masters degree in Jewish education from Yeshiva University's Azrieli Graduate School, where he was a Legacy Heritage Fellow.
He was a Tikva Summer Fellow in 2014, a member of the HaKaveret design team of innovators in Jewish education, and earned his doctorate in educational psychology at USC in Los Angeles, focusing on curriculum design and Israel Education. As principal of Shalhevet, Noam has overseen a doubling of the school's size, and his areas of expertise include change management, teacher supervision, learning and cognition, and institutional growth.
Rabbi David Stein is the Director of Gemara Education at Shalhevet High School in Los Angeles, CA. He is the co-Founder and Managing Director of the LaHaV Curriculum Project, and has worked as a Rabbi, educator, and engineer.
David attended Yeshiva College and RIETS for his undergraduate and semikha studies, and also received his Master's degree in Mechanical Engineering from Columbia University. He is currently studying at American Jewish University's Graduate Center for Jewish Education as a Wexner Graduate Fellow/Davidson Scholar, and was a member of the Writers Group for the Rabbinics Initiative Standards and Benchmarks Project.
David's responsibilities include oversight of all content creation, teacher training, and technology development for LaHaV, and his experience in both engineering and in education shape his approach to curriculum and collaboration.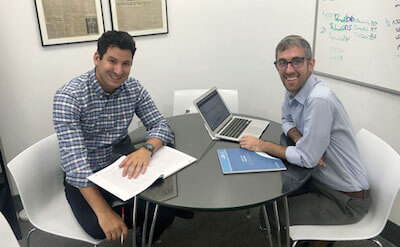 This entry has been tagged with the following terms: