At Derech HaTorah we have taken the next step to provide extra support for children struggling in Judaic studies by creating a program called JLab- the Jewish Learning and Skill Building Center. JLab is an official Judaic Title I-like support service. The goal of this program is to assist students in building core skills, such as קריאה and כתיבה.
Entry Narrative
By way of introduction, Derech HaTorah (DHR) is a K-8 co-educational Jewish Day School with a dual curriculum. The current enrollment is 113, all from the local Rochester, NY Jewish community. At DHR, we are committed to providing a Torah education for all Jewish children. A seamless fusion of curricula has been developed to educate the whole child. DHR teaches a superior, scholastic curriculum that meets and exceeds New York State Education Department standards.
The intellectual and moral development of every student is maximized in a warm, nurturing learning environment. Each student is viewed as an individual, having multiple capacities, interests and intelligences. Thus, our educational philosophy reflects the wisdom of Proverbs: Chanoch l'naar al pi darko (educate each child according to his nature).
At Derech HaTorah, we pride ourselves on our ability to offer our students additional support services through the school district, Title I, and our school counselor; however, all of these support general studies only. One of the admirable qualities of the Jewish community throughout the ages has been our dedication to endow our children with knowledge of our Holy Torah, our traditions, and our language. Some students struggle in these subjects as well, and we feel it is worthwhile and essential to invest our resources in supporting students in said subjects, thereby strengthening their chances of being well-educated Jews.
In the past, we have struggled to facilitate additional קריאה support through Judaic Studies teachers who donated of their time to work with many students both within the classroom and in small tutoring sessions in our tutoring room, and they did a tremendous service to our students. Thankfully, this school year (2018-19) we were able to take the next step in providing extra support for children struggling in Judaic studies by creating JLab- the Jewish Learning and Skill Building Center. This is an official Judaic Title I-like support service which is being headed by Rabbis Dov Chastain and Adam Aranov.
In creating JLab, we had several meetings between administrators and teachers to identify students who needed additional support, and what subjects they need support in. Rabbis Chastain and Aranov then had follow up meetings with each Judaic studies teacher creating IEP's and action plans for every student to attend JLab (see intake form attached). After this process, we personally contacted every parent about our recommendations, and are happy to report that 26 of 27 parents consented to additional services (the one parent who refused has refused offers of services from the district and Title I as well). In addition, Rabbi Chastain worked with our Principal, Mrs. Lea Goldstein, over the summer to create a unified Judaic curriculum with benchmarks and standards. We will be using those standards in assessing grade level and recommending specific material to cover in JLab.
We have been able to use a classroom in our school's wing to house JLab, decorating the door with welcoming decor, filling it with working tables, chairs, dry erase boards, materials for both JLab instructors and any Judaic studies teachers who could benefit from them, and דקדוק, קריאה, and כתיבה posters. Just walking in the door of JLab, one can tell that it is set up in an optimal way to support one-on-one and small group learning.
During our first semester of JLab, our instructors have been scheduling regular meetings with our teachers to receive new material suggestions, review the material being covered in JLab sessions, and re-evaluate students needs. We just held our first parent/teacher conferences, and were given the chance to showcase to the parents how much of a difference JLab is making. We created individual updates for every child in JLab, reviewing why they were recommended for JLab, what material and skills have been covered thus far, and our recommendations for the future. It was received very warmly and with tremendous thanks from our parent body. It has really been a program that every one has rallied behind.  
JLab was not only designed to help students, but is also designed to help teachers find the resources they need to help their students. After our first conferences, we reminded teachers that if they are noticing one or more of their students struggling in a particular area, they are strongly encouraged schedule a meeting with Rabbis Chastain or Aranov to discuss the issues and identify the best practices for assisting their student/s.
To this point, we have received overwhelmingly positive feedback about this program. To quote a parent of a JLab student- "We moved to Rochester because of the wonderful things we heard about Derech Ha'Torah. We had been living in an out-of-town community, and had to send some of our children with special needs to public school. We moved here last year, and were really blown away by how much support was in place. This year they created JLab. It brings tears to my eyes to explain how much it has done for my daughter. We were hoping to bring her from public school to a Jewish environment, but did not expect she would grow much in her Hebrew reading a writing. With JLab I am actually seeing my daughter read and write Hebrew, and it blows me away. This program is gold!"
Our greatest weakness in the program is funding it. We felt that the need was great enough to justify the expense, and that we want to support all of our students, and made the choice to create it, but are struggling to ensure we can fund the program. To our knowledge, this program and the way we have implemented it is very unique in the Jewish Day School world. We would be happy to share our program, our documentation, and our feedback with any other institutions that could benefit from it, and look forward to being partners in raising the bar in Special Education in Jewish schools. Please help us support JLab, and thereby support students in Rochester, and a model for special education in the Jewish Day School world.
Entrant Bio(s)
Rabbi Dov Chastain
Rabbi Dov Chastain, hails from Atlanta, Georgia. As a child, he battled leukemia, but thank G-d went into remission right away, and had a complete recovery. While battling cancer, he spent summers at Chai Lifeline's Camp Simcha, and maintain a relationship with Chai Lifeline today. He attended the Torah Day School of Atlanta for elementary school followed by Yeshiva Atlanta for high school. In high school, he was very involved in NCSY, serving as his chapter's president, as well as Boy Scouting, earning the rank of Eagle Scout. To this day he really enjoy playing sports and hiking! After high school, he attended Yeshivas Ohr Yerushalayim for two years, followed by Hebrew Theological College for a semester, and Yeshivas Bais Yisrael for 6 years, while spending summers working on a college degree. He went on to earn a bachelor's degree and rabbinic ordination in Israel, and a master's degree in education, administration, and supervision from Loyola University Chicago. Until 2010 he was learning/tutoring/teaching in Israel, but then moved to Portland, Oregon, where he became the director of Portland NCSY for a year and a half before moving on to become the director of recruitment and the Yachad intensive Judaic studies program for Maayan Torah Day School. In July of 2013, He became the full time Rabbinic Administrator of Oregon Kosher while still teaching part time in Maayan. He then moved back east in the summer of 2017 to become a Judaic studies teacher at Derech HaTorah of Rochester, where he teaches 2nd grade and helps lead special education services.
Rabbi Adam Aranov
Rabbi Aranov is a warm an energetic presence wherever he goes. He brings our school a love of learning that is contagious, and is a skilled educator, and a very talented musician and Ukulele Enthusiast. Rabbi Aranov has served as an outreach professional, special needs teacher, and most recently comes to us from Hillel Community Day School where he was a Judaic studies teacher. Rabbi Aranov holds a Masters Degree in Educational Leadership from Bellevue University and puts in much effort to stay current on best practices for elementary education and special education. Rabbi Aranov's most recent project is the center of this grant, as he is the founder and director of JLab- the Jewish Learning and Skill Building Center at Derech HaTorah of Rochester.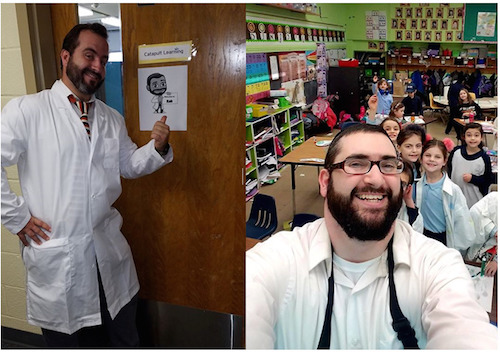 This entry has been tagged with the following terms: