Happy 100th day of school! In this project, students will be challenged to use exactly 100 items to create a sculpture to be exhibited along with a bar graph and written statement for a special 100th Day Museum. Motivation increases as students apply mathematical skill, creative thinking, and problem-solving to this real-life learning experience.
Entry Narrative
The 100th day of school is a milestone celebrated in most early elementary classrooms. Daily counting of school days provides an opportunity to implement and review math and number sense into every school day. It reinforces many of the mathematical objectives within the curriculum; such as counting, bundling by ten, and place value, as the students count each day.
The 100th Day Sculpture Museum is a culminating project to our daily counting that provides an art integrated and authentic learning experience. Students are challenged to think creatively, collect and analyze data, employ engineering and artistic skill all while implementing many of the mathematical strategies they are learning (see Appendix A) into an authentic real-life situation.
This exciting project not only increases student motivation and interest in math but the hands-on, authentic experience boosts understanding of previously difficult concepts for even the weakest of learners.
This is what the project looks like:
Step 1:
Students count "how many days smarter" (i.e. the number of school days they have had and therefore learned) they are each morning as part of our morning routine. This is counted on our Smartboard on a 100 chart, by counting straws and bundling appropriately, and by filling in 10 frames.
Step 2:
As the 100th day of school approaches students are introduced to images of sculptures in different art forms- modern, recycled, statue, etc. Form, structure, and balance and other artistic characteristics are discussed.
Step 3:
The 100th-day sculpture project is introduced. Each student is challenged to create an individual and unique sculpture for an art exhibit that will be opening on the 100th day of school. However, there is a catch…. Each sculpture must be made using exactly 100 items- no more, no less.
Step 4:
Students are asked to bring in 100 miscellaneous items from home to be pooled and utilized for sculpture creation. Items can be recyclables, craft supplies, or small building supplies. The only rules are:
Nothing edible
Each item must fit on the supplied 8×11 cardboard base
Step 5:
The class brainstorms together on possible items to bring in for sculpture use and begin to collect useful supplies for the class. All supplies are collected and kept within the classroom until every student has contributed supplies.
Step 6:
In order to analyze, compare, and organize the materials, the class works in small groups sorting all items by common attributes. Using counting techniques and the concept of "bundling 10s" all items are counted and recorded on a running list. The list is written on large paper and hung on the front board for easy access.
Step 7:
Once all of the "data" (a.k.a. supplies) have been sorted and counted, students learn how to represent the data using pictures and bar graphs. Thereby, giving students an authentic example of the importance, value, and utility of interpreting data analysis.
Step 8:
Students examine and consider the materials, and create a sketch of a concept for their sculpture. The class opens a "materials" store and each Student receives an opportunity to "shop" for materials by choosing 10 items at a time. If a student wishes to use more than 10 of a particular item, they will need to wait until it is their turn again to choose more of the same item. This encourages critical thinking and problem-solving skills while also implementing counting skills as students determine exact amounts of materials necessary to create their sculpture vision.
Step 9:
When "shopping" is complete, and each student has chosen 10 bundles of 10 items, each student individually recounts their materials and bundles those materials to ensure each student has exactly 100 items for their sculpture.
Step 10:
Students then re-sort their items by attribute and create a bar graph documenting and representing all materials utilized in their sculpture. To do so, each student creates a draft of their graph and then works to edit and correct the spelling of all materials and ensure that the data represented on the graph is accurate.
Step 11:
Sculpture construction begins. Students are required to tweak ideas, think creatively, and problem solve as they often run into unforeseen challenges; such as: finding that materials are weaker than anticipated, wanting extra (more than 100) items, and utilizing all 100 items for the sculpture. Teachers are available for technical assistance (e.g., using hot glue guns); however, problem-solving and artistic decisions are left to the students.
Step 12:
When Sculptures are complete students title the sculpture and generate a 2 to 3 sentence description of their sculpture. This too is done in drafts following the five-step writing process taught in first grade (Appendix B)
Step 13:
On the 100th day of School, students set up their sculpture, bar graph, and museum tag within the classroom.  The classroom is transformed into an art museum with each child's sculpture as a self-contained exhibit.  Faculty and students from other grades visit our museum. Students stand alongside their sculpture and answer questions from peers about their creative process, materials used, and math skills employed throughout the process.
This project is not just a real-life implementation of learning. It also provides a motivating, interesting, and fun experience that benefits diverse learners. Upon completion of the project, I find my students have a deep understanding of the mathematical strategies practiced (i.e. counting, bundling by 10, and data analysis) and are ready to apply this knowledge to future math lessons and other real-life experiences.
Entrant Bio(s)
Tamar Volosov is a 1st-grade general studies teacher at the Melvin J. Berman Hebrew Academy. Tamar holds a degree in art and design and recently completed her Masters in Early Childhood Education. She has a love for authentic learning and teaching and uses her background in art to add creativity and out-of-box thinking into her classroom daily. Tamar lives in Silver Spring MD with her husband and 3 children.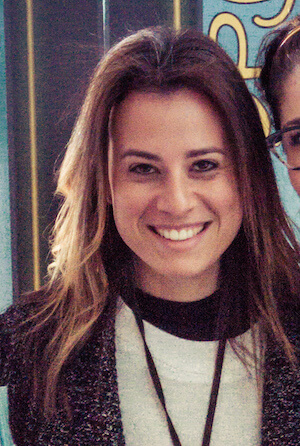 This entry has been tagged with the following terms: