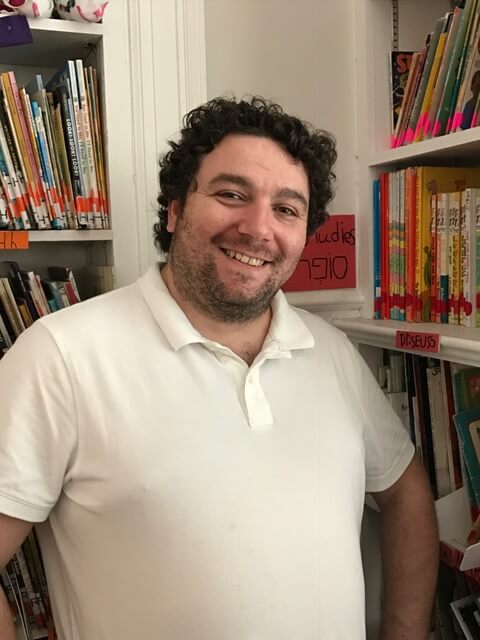 Meet Vas Pournaras
Vas Pournaras won the Kohelet Prize for Development of Critical and / or Creative Thinking, as part of a team of three at JPDS-NC, The Jewish Primary Day School of the Nations Capital. You can view their entry, Kindergarten Community Library Project, here:
In
 your experience, what is the greatest challenge facing students/teachers 

today?

I think that the greatest challenge facing teachers is to continuously be innovative. As I plan with my team we look at the skills and competencies we want our students to meet and learn, yet we rarely repeat projects. We think of ways we can incorporate skills into projects that can last over several months-giving students the ability to connect in a variety of ways.
In implementing your winning project in the classroom, was there a moment when you knew that you had hit upon something really powerful?  If so, describe that moment.
As we began planning our Community Library Project I was hesitant at first. I was not sure how redesigning the library would or could connect children to our community. As our planning continued I realized that there were so many ways to connect the project across many different disciplines and to our community. There were endless possibilities, and that is when I knew we had a great project on our hands. Students and teachers alike were completely invested in the learning that was happening.
What advice would you give teachers who want to attempt something new and different in their own classrooms?
I would say that trying something new is how to learn and grow as a teacher. If it did not go well, it's okay-that is when you should reflect on what you tried, what went well, and what you should change. If we want our students to take risks, we must lead by example and take risks of our own.
What's your favorite part of your teaching day and why?
One of my favorite parts of the day is welcoming students in as they arrive. Kindergarten children always have a story to share about themselves, and listening to their stories as they arrive is a great way to get to know what motivates them and helps to build and strengthen the teacher and student relationship.
How do you ensure that you're always growing professionally?
Thankfully JPDS-NC is a school that values professional development. Each summer the entire staff reads the same book, and we discuss it over the course of the school year. When possible I enroll in courses, attend professional organization meetings, and independently read articles that will help me grow professionally.
If you had one piece of advice to share with a new teacher walking into his/her classroom for the first time…
Teaching is one of the most rewarding careers. Being a good teacher is hard work! Always try to learn and grow as a teacher. It is okay to make mistakes-by learning from your mistakes you can and will grow and strengthen yourself.
What are some ways in which you motivate your students to become lifelong learners?
By giving my students many opportunities to think critically and by using variety of thinking routines, I am giving students tools to help them analyze, ask questions, and research. Developing these skills hopefully motivates them to become life long learners.
When I'm not in the classroom I love to:
Travel. This strengthens my teaching by enabling me to see the world from different perspectives, helps me adapt to different situations, enables me to think creatively and critically, and to problem solve.