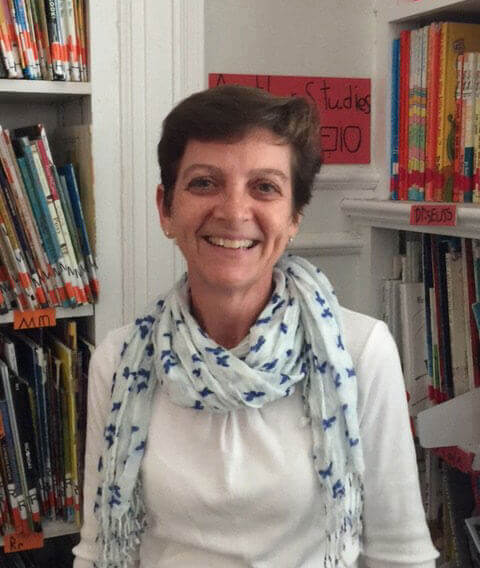 Meet Lisa Davis
Lisa Davis won The Kohelet Prize for Development of Critical and / or Creative Thinking, as part of a team of three at Jewish Primary Day School of the Nation's Capital. Check out their winning entry, Kindergarten Community Library Project, here:
ln your experience, what is the greatest challenge facing students/teachers today?
I think the greatest challenge is time. At JPDS we have a dual curriculum with General Studies and Hebrew/Judaic Studies. We also have a wide variety of specials including music, Israeli Dancing and Movement which the children go to once or twice each week. We have Reading Buddies with 3rd graders and iBuddies with 6th graders. There are field trips, special visitors (ranging from puppet shows to Chabad rabbis teaching the children how to make Havadallah candles to children's theater experts) and Student Spotlights (Student of the Week) visits from families. Each of these is important and enriches the education of the children, but each takes away time that could be spent on projects, reading, math, and writing. There is never enough time to do everything we want…but somehow we make it all work in the time we have. I always say that we need to be very deliberate in what we do whether it is in teaching a lesson, sharing a book or a leading a discussion because there is no time to waste!

In implementing your winning project in the classroom, was there a moment when you knew that you had hit upon something really powerful? If so, describe that moment.
There were so many different facets to our project that stand out but one that comes to mind is when my students were able to articulate what needed to be done to our inefficient library after interviewing members of the community and visiting different libraries including the Library of Congress and a local public library devoted to children's books. Hearing the students say "we need fiction and non-fiction sections, we need to alphabetize the books so we can find them easily, we need to group the non-fiction books by topics" made me realize that they "got" what the project was about and that they would help to make it happen. I didn't teach them those things…they figured out their importance on their own and it was just wonderful.

What advice would you give teachers who want to attempt something new and different in their own classrooms?
Don't be afraid to try something new. Don't be afraid to leave your comfort zone. Don't be afraid that it might not work. Just because you have always done things a certain way doesn't mean there aren't ways that will be better or even more fun!
What's your favorite part of your teaching day and why?
For this question, I will be like my Kindergartners and give you two answers (they can never say they have just one favorite flavor of ice cream or one favorite color!).
My first favorite part of the day is arrival time. Each child has their own beginning to the day. There are those children who head straight to the morning (English) message then go to the Hebrew message then sign in on the Hebrew board before checking out whatever provocation has been put out on the tables. There are other children who come in and want to chat with me so they can tell me a story, share a thought or show me something new. Other children come in and make a beeline to whatever captures their interest as they walk into the classroom – maybe sketching a mounted piranha, maybe doing a tessellation challenge, or maybe doing a new puzzle. They totally forget that they should do the messages first or at least say good morning to me. Over the course of 20 minutes, the 18 children arrive ready for action in their own way…it is differentiated learning first thing in the morning…each child arrives needing to start the day in their own way with help from me (or not!). I may think I know what the day will bring, but with the help of those 18 children, it may turn out to be a completely different day than I had anticipated. I love the fresh beginning and the potential for all sorts of learning that may happen during the day. All of this is on my mind each morning at arrival time.
My second favorite part of the day is when I teach science. Three years ago it was decided that for an hour each day, the children from all 3 kindergarten classes (roughly 50 students) would be split up into 5 mixed groups and travel together within that group to different classes that would teach foundational skills. So for an hour each day, the children travel to two half hour classes. They go to math, language arts, art, intentional play or science depending on the day's schedule. A teacher in each of those classes works with the smaller group. By doing this, we created a marvelous thing. Not only do the students have more time to work one on one with a teacher, but they also get to know each of the Kindergarten teachers and the teachers get to know every student. It is a favorite time of day for everyone and has truly created a community where we have 1 kindergarten in 3 classrooms. I started teaching science 3 years ago. I have a background in outdoor education and a true love of science and adore bringing it to students. I was given a very loose framework to work with and made it my own. Every year I cover a wide range of topics including those in the natural world (living and non-living things, seeds, seasons, life cycles, metamorphosis of butterflies and other animals), physics (forces including magnets, gravity, wind power, pushing/pulling, friction and acceleration) and gardening. I love being the point person for everything that is science related. I have had Kindergarten kids from my class and others bring me dead spiders, bird nests, cool rocks, big shells, and dried up worms because the kids know "I will love them!" I have a passion for science and the children realize it and embrace it and I just love that.
How do you ensure that you're always growing professionally?
I try to take advantage of every professional development opportunity that I can so that I can learn what's new in the education world and apply it to my own teaching practice. I am lucky that JPDS believes in professional development and is happy to send me places. In the past 3 years I have visited others schools such as the Reggio Emilia inspired Sabot School in Virginia, participated in 2 week long summer institutes (with another coming up in 2017) at WISSIT (Washington International School Summer Institute for Teachers) which is dedicated to workshops on the fabulous Project Zero Initiative out of the Harvard School of Education, and I go to the monthly meetings of the DC Reggio group which meets at area schools. I eagerly took advantage of a Project Zero online course that was offered in the Fall to learn about Maker Centered Thinking. I also read books including those that JPDS asked us to read for PD – Ethics of Excellence by Ron Berger and Mindset by Carol Dweck are two of the most recent. Visiting schools and learning new material ensures that I keep up with what is new and inspires me to do more with my own students.
If you had one piece of advice to share with a new teacher walking into his/her classroom for the first time…
Get to know the children. Figure out what makes each of them special. When they feel special and loved, they will connect with you and your job will be enriched because of it.
What are some ways in which you motivate your students to become lifelong learners?
I model how I am a lifelong learner. I share articles from the newspaper. I tell them about books I have read. I discuss the trips I have done. When they ask a question, I make sure to let them know when I don't have an answer and then look it up with them. I want them to know that teachers don't know everything and that not only is it important to find out answers but it is fun to do so! I use the word "curious" a lot too…they know that I love to find out more about everything around me and that being curious is a great thing.
When I'm not in the classroom I love to READ. This strengthens my teaching by …
Informing me about the world. There is so much to learn and know. I can't get enough. I am not big on watching TV or movies. I love to read…non-fiction books about history and science and current events, fiction in order to learn about human nature (mysteries especially!), newspapers because something new is always being learned and discovered…I can't get enough. Children love to hear what I have learned and I love sharing it with them. My hope is that they will see how much I love learning and so they will be inspired to learn as well.