Each week our students in our 4-5th grades spend an afternoon outdoors to learn, become aware of and appreciate the vital role the earth plays in our existence. Students are encouraged to gain a deep, profound respect for the environment, to become Shomer Adamah (Guardians of the Land) through study of Jewish texts that promote these ideas.
Entry Narrative
TEVA TUESDAYS
Each week our students  experience "Teva Tuesdays". This  encompasses a 2-3 hour stretch of time in which our students and teachers are situated outdoors, regardless of weather,  to learn, become aware of and to appreciate our natural environment and the vital role it plays in our existence.
Through this outdoor learning students are encouraged to gain a deep and profound respect for the environment, its various ecosystems, to become Shomer Adamah (guardians of the land) through study of Jewish texts that promote these ideas, and to engage in the Mitzvot and Middot that connect to this concept.
Students are involved in project-based learning that  allows them to follow their interests and pursue their passions. An example of this might be the study of environmentalism through Jewish holidays (honey bee collapse; harvest; organic vegetables; sh'chita) or the pond/stream ecosystem (tie in to Nile River and the study of ancient Egypt), creating temporary shelters, studying soil composition and water filtration. Jewish text and tefillot will be an integral part of each experience.
This kind of guided exploration, intentional slowing-down of activities, and hands-on learning opportunities have been shown to engage students in profound ways, aiding classes in becoming more cohesive groups, promoting verbal skills, enhancing problem solving skills, team building, and reducing stress.
In this light, the teachers in Ilanot have rewritten the Ezra mission statement;
Ezra Academy, a K-8 Schechter Day School, educates Jewish children within a nurturing community to become
independent/ interdependent ,
lifelong learners/ thoughtfully aware ,
committed and knowledgeable Jews/ biblical, middot, and mitzvot ,
and responsible, caring citizens/ inhabitants of earth- tikkun olam .
At Ezra Academy we believe that education must include the emotional, artistic and creative aspects of child development. We engage in cooperative learning, multi age approaches, experiential learning, and a social curriculum that all contribute to our students becoming capable, adaptable learners. We endeavor to immerse our students in critical, socially engaged learning relevant to the postmodern, global age in which they live. Teva Tuesdays have been the perfect venue for our students to engage in cooperative, experiential learning, to adapt their learning to a new and different environment, to engage in critical social issues with regard to sustainability, environmentalism, and global warming.
Ezra Academy is a school based on academic excellence with a challenging and nurturing environment that recognizes each student's talents and acknowledges their individual learning styles. We use an integrated curriculum, in which Judaic and general studies are taught as one, in thematic based, spiral curricular units, in where students discover the interrelationships between and within subject areas and continually build on what they have already learned.  All of this takes place within a learning community that includes students, teachers and parents alike.
Teva Tuesdays have allowed our science teacher along with our secular and Judaic studies teachers to work collaboratively to create rich and meaningful integrated units of study and experience. These units of study are informed by our ancient Jewish texts, our commitment to Gemilut Chasadim and Tikkun Olam. They have provided our students the opportunity to connect their Judaism to science and engineering projects, social studies, environmental studies, language arts, creative writing and art. We have enabled our students to live their Judaism through their daily lives and their academic pursuits.
Entrant Bio(s)
Melanie Waynik has an extensive background in the field of education. She earned a Bachelors degree in psychology and elementary education from Barnard College and a Masters degree in educational administration and an EdD from the Teachers College, Columbia University. Her doctoral research was been in the area of school culture and teacher expertise. She has taught elementary education in a variety of schools, both public and private.
In addition to her professional experience, Dr. Waynik has also served as a lay leader in Jewish day school education for many years. The parent of three Ezra alums, she served as president of Ezra Academy's board of directors and, over the past five years, she was been actively involved in the establishment of the Jewish High School of Connecticut.
Marcy Thomaswick is currently teaching grades 4/5 (general studies) at Ezra Academy in Woodbridge,CT where she has been working since 2006. Marcy earned an MS in Education from Southern CT StateUniversity and taught in a public school for five years before starting at Ezra Academy. When teaching grades K/1 and 2/3, Marcy introduced the Engineering is Elementary Curriculum to the school. A lover of nature facilitated one of her recent initiatives, the creation of an original curriculum called "Teva Tuesdays" for grades 4/5. Teva Tuesday gets kids outside throughout the year and integrates secular studies, Judaic studies, science, holidays, writing and social/emotional development.
Rebecca Tishkoff teaches 4th-8th-grade science and 7th and 8th-grade computer science at Ezra Academy. Rebecca received a BSE in chemical engineering from Tulane University and a Ph.D. from the University of Pittsburgh in chemical engineering. For three years, she taught Sunday School at Gates of Prayer congregation in Metairie, Louisiana, and Hebrew at Communal Hebrew School in New Orleans. During graduate school, she taught chemistry, computer science, and fundamentals of chemical reaction engineering classes.
Gail Raucher is a Judaics study teacher. She has a B.A. in Elementary Education, from Queens College, and an MS In Jewish studies and Education, from New York University. She has taught every grade from Kindergarten through Middle School. She was a participant and a grant recipient in a Ramah Seminar for teachers leading trips to Israel as well a participant in a summer Judaics study program at the Conservative Yeshiva in Israel. Most recently she was a Legacy Heritage grant recipient at Hebrew University to develop a Jewish holiday curriculum for a multiage day school classroom. Gail has participated in retreats at Isabella Freedman, a camp specializing in Judaism and the environment. Last year, she worked with her co-teacher, Marcy Thomaswick to bring the class to Camp Eden Village, a Jewish organic farming camp. She has also taken courses at the Jewish Theological Seminary and Hebrew College to broaden her understanding of the Jewish text and Jewish history. Presently, Gail teaches a multi age, fourth and fifth grade class at Ezra Academy. She has been a teacher at Ezra Academy for 17 years. In addition she serves as the Principal of the Hebrew School at Temple Beth Sholom, a position she has held for more than 30 years.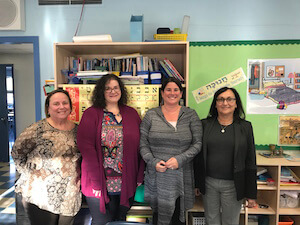 This entry has been tagged with the following terms: