1st graders learned about trees through literacy, science, math, Ivrit, art, movement and by working in cooperative groups. The unit included studying the parts of trees in Hebrew and English, the impact of trees on the environment and its natural resources. We emphasized the mitzvah of tzedakah and of planting trees in Israel for Tu B'Shvat.
Entry Narrative
This unit on trees is an interdisciplinary unit with collaboration amongst first and fifth grade classes, General and Judaic studies. It incorporates science, math, literacy, Hebrew language and social studies. It was a unit which had hands-on and experiential learning for all. The students and teachers began with a simple question, what are trees and why are they important? We used Hebrew and English books and introduced the Hebrew vocabulary to get the students' minds moving in the right direction. From there the unit grew in many areas. In science, the topics addressed included, what animals need from trees (food, shelter), what people need from trees (food, shade, resources), what do trees need in order to grow and how long does it take a tree to grow?
In Judaic Studies we delved further into this topic using our Tal Am curriculum to help the children learn the Hebrew vocabulary associated with trees. They learned to identify the parts of a tree in Ivrit, and learned a song with hand motions to reinforce the new vocabulary.  As part of their Tal Am unit, they learned that on Tu Bishvat it is a mitzvah to plant trees in Israel, and we, here in America, can give money towards this mitzvah.
We even turned the unit into a fundraiser/tzedakah for JNF. Students learned marketing skills and designed a fundraising campaign.
Our first graders worked together with their 5th grade Learning Buddies to design trees to decorate our walls, using the skills they learned in Maker Space . They used their Hebrew word cards to add details to their trees.  They combined their  knowledge of trees with a unique art form.  The students together learned about negative space and a new art form called Tape Art.  After being introduced to this art concept and artistic form, the students were divided into groups and were given the task of creating their own tape art of a tree utilizing the concept of negative space.  Their works were decorated with written work about trees which had been done in each class.  The results were proudly displayed on the windows in the hallway that connects the Lower School and Middle School.  The unit enhanced their creativity and their knowledge of trees.
One part of our unit focuses on the parts of the tree, and we learned a new song in which we use our bodies and hand motions to act out parts of the tree- Ma Yesh L'etz?   
In our Sifriya book, Lama Ohavim Eitzim and through our studies in our Choveret Tu Bshvat the students learned many of the things trees provide for this world.  The children also were able to practice their writing skills when asked to describe what is found on a tree and why they like trees. The children also learned to identify the Shivat Haminim and they even had the opportunity to taste them.
In General Studied, the children worked in groups cooperatively to design posters to launch their tree campaign….
First Graders followed these steps when implementing the fundraising campaign
Step 1– Students researched information about the importance of trees and the parts of a tree.
Step 2- JNF speaker came to tell us about the importance of trees in Israel.
Step 3-Students worked in groups using the information to create signs and posters.
We shared information with parents which enhanced our communication with families and their involvement and connection to what we are learning. Please click here to see a sample newsletter.
From the newsletters:
This year, we are embarking on an exciting venture.  Kitah Alef has begun a project based learning unit which crosses over to First Grade Secular Studies and coordinates with the Middle School's Fifth Grade Math classes.  First Grade will be learning about trees with both their Judaic Morot and with Mrs. Stein.  They will focus on our dependence on trees and their importance specifically in Eretz Yisrael.  The students we be tasked to create an ad campaign to educate people about the importance of trees and the need to buy trees in Israel.  Our Fifth Grade partners will engage in a math study of the fundraising side of this venture.  We partnered with the Jewish National Fund and this past Tuesday, a representative from JNF came to speak to both grades about the importance of trees in Eretz Yisrael.
AND
This week we completed our Project Based Learning program with our 5th grade partners.  During Mrs. Stein's class, the children began creating posters advertising the need to purchase trees.  We videoed the First Graders presentations on Seesaw.  This past Thursday we invited our 5th grade partners to our classes to share our presentations and to see what they have prepared.  It is clear that the students have gained a better understanding of the importance and need to plant trees in Israel.
Coming together with 5th Grade Math Classes
The students came together with the 5th grade math classes to take learning to a new level. 5th grade math topics included; Computation with whole numbers and decimals, including addition, subtraction, multiplication, and division, Estimation and reasoning skills, Geometry, specifically area based on space available and estimated size of each individual tree, Problem solving strategies, including drawing pictures, modeling, guess and check, and finding multiple ways to solve a problem.
5th graders created cost analysis brochures and shared their findings with the first grade classes
Cost Analysis Brochures Comprehensive Plan included questions such as: If everyone raises $18 (purchase 1 tree per person): How much total money will be raised? How much space will be needed?
5th graders were instrumental in our collaboration, because they provided the higher level math skills to help the first grade students count and sort the money that was collected to purchase a forest in Israel with JNF.
Entrant Bio(s)
Rebecca Feldman (Judaic Studies) Linda Sipzner (Judaic Studies) and Shira Stein (General Studies) are the first grade teacher team at Joseph Kushner Hebrew Academy in Livingston, NJ. They have been working together and collaborating for many years to make learning more meaningful and making connections between the Judaic Studies and General Studies curricula in first grade.
Rebecca Feldman is a veteran teacher of over 20 years. She received her BA from Stern College for Women and a double MS from Bernard Revel Graduate School. She received her Judaic Studies Teacher's Certificate from Michlelet Jerusalem. Linda Sipzner is a seasoned teacher with over 30 years of experience. She received her BA from Queens College and her Hebrew Teachers' Diploma from Teachers institute of Yeshiva University. Shira Stein, has been teaching for 15 years with experience in both Early Childhood and first grade. She received her BA from the University of Wisconsin and her MA from Teachers College Columbia University.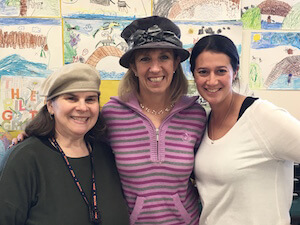 This entry has been tagged with the following terms: