SW's TOM Makeathon, a fully student-run initiative, is the embodiment of our school's dual goals: the application of real-world skills to revolutionize student thinking and improve the world in tangible ways. Teams of students work with individuals with disabilities to design and fabricate products that will make daily life more manageable.
Entry Narrative
Schechter Westchester seeks to inculcate students with the most ancient of Jewish values—the imperative to improve the world—while also equipping them with the most modern of tools: skills in engineering, digital design, coding, and fabrication. The TOM Makeathon represents the ultimate synergy of these goals.
TOM (Tikkun Olam Makers), identified by Forbes as one of "15 Technology Companies to Watch in 2018," has run dozens of events around the world in which adults with creativity and fabrication skills partner with individuals with disabilities (known as "Need-Knowers") to invent products that will aid in the daily lives of these Need-Knowers. Examples of the work that TOM does in Israel and throughout the world may be found here and here.
In 2016, TOM launched a partnership with Schechter Westchester, and SW's annual TOM Makeathon remains the only one in the world at the high school level. In fact, the event is now orchestrated entirely through student leadership. Following a pilot event in the spring of 2017, our students organized our first full-scale makeathon, which was held over a two-day period in December 2017. Four groups of students—all of whom were trained during their four years in SW's Engineering and Entrepreneurship program in coding, electronics, and fabrication skills—worked with Need-Knowers to create new product designs to improve lives:
An elderly woman has limited mobility on one side of her body and is blind in one eye. Because of difficulties with both walking and depth perception, she often has trouble identifying stairs that she is approaching, especially in low light. The team of students devised an LED light system, which can be embedded in her shoe, that produces a distorted light pattern when she approaches a staircase and alerts her to possible danger.
A four-year old child with dwarfism was having trouble utilizing the bathroom independently. The team working with him created a sturdy, foldable, portable stool that had features designed specifically to make it suitable for restroom use.
A local high school student with cerebral palsy has difficulty carrying his books and papers to class. The team of students working with him designed and built custom modifications to his wheelchair that enable him to carry and access his materials with ease.
One of our own alumni, now in her 20s, has mobility challenges, uses a cane, and therefore has difficulty carrying things. Our current students worked with her to modify her cane (using both high-tech and low-tech approaches) to make everyday tasks like grocery shopping easier for her.
This event was highlighted in the Prizmah blog, and the post included a three-minute video that received thousands of views on a variety of platforms.
The next iteration of SW's TOM Makeathon will take place in December 2018, and it will feature several noteworthy improvements from the 2017 versions. Most importantly, all of the organizational efforts have been undertaken entirely by students: student leaders have publicized the event, recruited the Need-Knowers, acquired the necessary materials, and made all logistical arrangements. The 2018 version will also be considerably larger: 48 students will participate, collaborating with ten Need-Knowers from around the region.
The video (watch here) that forms the centerpiece of our application highlights the benefits of this extraordinary program—not only to the Need-Knowers themselves, and not even only to our students to plan the event and build the products, but to our entire school community and the broader field of education. An innovative curricular program has directly cultivated intense student passion to perform tikkun olam—and equipped them with the skills to do so in the most tangible, impactful manner possible.
Entrant Bio(s)
Dr. Danny Aviv is the Director of Engineering and Design at Schechter Westchester. Dr. Aviv holds a BS in Biology from the State University of New York at Albany, a Master of Science in Microbiology from Rutgers University, a PhD in Genetics from the University of North Carolina at Chapel Hill, and a Master of Arts in Jewish education from the Jewish Theological Seminary. He has been a dedicated and dynamic educator since 2003, having taught science at the Abraham Joshua Heschel High School, genetics at Columbia University as a member of the adjunct faculty, and taught DNA science and evolution at the American Museum of Natural History, where he served as the director of genetics education.
Since 2011, Dr. Aviv has been the driving force behind one of Schechter Westchester's signature programs. He designed, developed, and teaches the innovative Engineering and Entrepreneurship program (E2), a multi-year course where students not only learn basic structural, electrical and computer engineering concepts through group design competitions, lectures, and formal exams, but also engage in unique real-world learning experiences. Each year, student teams form companies, create corporate branding and identity, pitch their ideas to investors, and design and build a culminating product that aims to solve a real-life problem. Dr. Aviv uses fearlessness as a lens to encourage E2 students to seek their own answers, see failure as an important part of the process, and achieve what they never thought was possible. He has inspired many of his students to pursue the study of engineering in college.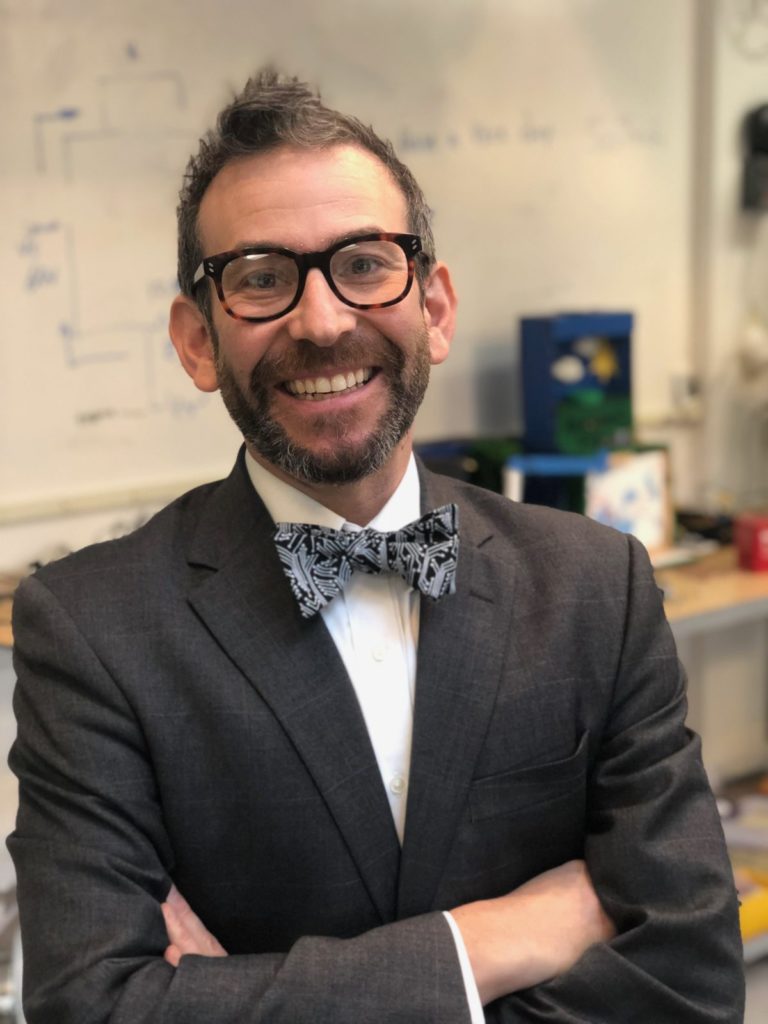 This entry has been tagged with the following terms: