Four makerspaces, six innovative educators, two campuses, students ranging in age from 4-18. This is the basis for our culture-shifting focus on maker education across all grades, K-12. The learning that goes on in these spaces, and the impact that it has on thinking throughout our institution, has revolutionized how students approach their world.
Entry Narrative
In 2016, Schechter Westchester pursued the inaugural Kohelet Prize via a submission that focused on our Idea Incubator (known as "The INC"). As the first makerspace in the Jewish educational setting, one that has since been visited by dozens of educators looking to initiate maker-education programs in their own institutions, the INC has had a profound impact on the culture of learning in our school.
The INC has served as the headquarters for our four-year Engineering and Entrepreneurship (E2) program, which now serves over 180 students in our High School. In this program, ninth graders spend the year engaged in a "Computer Science Ulpan," during which they learn important core skills in coding, physical computing, electronics, and fabrication techniques. In tenth and eleventh grades, participants are divided into "companies" of three or four students each, and they are responsible for creating logos, websites, and sophisticated branding.  Each company then goes through an iterative process to design a product intended to address a social problem in the world (in pursuit of what we call Tech-un Olam), fabricates prototypes using the materials and tools in the INC, and then pitches the product concepts to real-life entrepreneurs. Examples of student pitches and pitch decks from the program may be found here (TempBrace Investment Pitch 2) and here  (MyCup Investment Pitch 2). Twelfth graders spend their semester working toward their capstone program, the TOM Makeathon.
The INC and the E2 program that it inspired has been a tremendous success for our school. As one quantitative metric, for example, more than 40% of our graduates who have studied in the INC have gone on to pursue college degrees in engineering or computer science. Two groups of students are even pursing United States patents for products that they invented in E2. We have succeeded in attracting students to SW who may otherwise have chosen schools with shorter commutes or lower cost, and funders have been eager to support the program generously. We have received favorable coverage in the press, and Dr. Aviv was even featured in a statewide lobbying effort to secure state funding for STEAM education.
Amidst this success of our High School program, an important idea occurred to us: given the well-documented benefits of maker education, imagine what a school could achieve if students who entered a program like our E2 already possessed core skills in fabrication, coding, creativity, collaboration, and fearlessness. In other words, if a 9-12 program could have such a positive educational impact, imagine what could be achieved in a K-12 program!
In subsequent years, we set out to raise the funds to construct three additional spaces across our two campuses: a Lower School Makerspace, a Tech-Style Studio that would be used by Middle School students, and a Fabrication Lab that could house power tools and sophisticated building equipment for students in grades 6-12. This video (WATCH HERE), which constitutes the centerpiece of our application, outlines our approach to the design and use of these spaces.
The new spaces and K-12 mindset of the program have revolutionized the academic culture of the school in two ways. First, the day-to-day academic schedules have changed. Students in grades 3-8 now have separate engineering courses, in addition to their regular science curriculum. From a young age, students are nurtured to feel comfortable using tools, building with diverse materials, working in groups, and solving problems. As we know, skills such as these will be crucial in the workplace of the future.
Even beyond this major change to our core academic program, the existence of these revolutionary spaces has transformed the culture of our school in other ways. To select one example, from Lower School Judaic studies. Students in second grade have always studies the narrative of the Tower of Babel from Genesis 11. Historically, the students would read the narrative, discuss, and perhaps draw a picture. This year, their study of this text was completely different: they went to the Makerspace, were assigned to groups, and had to recreate the experience of the biblical builders by utilizing materials and tools to assemble the tallest structure they could without communicating verbally with one another (see photos below). There are numerous similar examples of the impact that the culture of the makerspaces has had on our academic program, across disciplines and across grade levels.
Our engineering program was the brainchild of Dr. Danny Aviv, who first envisioned a high school makerspace through his own audacity and fearlessness—traits that he models for his students. The program has now expanded to six STEAM educators utilizing seven unique spaces, and it has truly revolutionized the way in which Schechter Westchester students are prepared to succeed in the 21st-century world.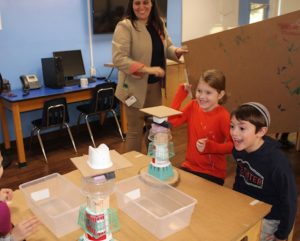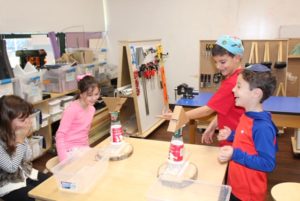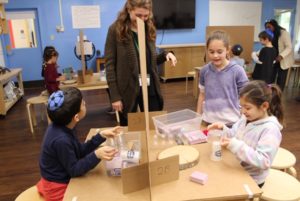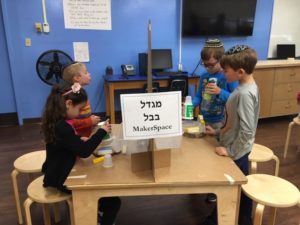 Entrant Bio(s)
Dr. Danny Aviv is the Director of Engineering and Design at Schechter Westchester. Dr. Aviv holds a BS in Biology from the State University of New York at Albany, a Master of Science in Microbiology from Rutgers University, a PhD in Genetics from the University of North Carolina at Chapel Hill, and a Master of Arts in Jewish education from the Jewish Theological Seminary. He has been a dedicated and dynamic educator since 2003, having taught science at the Abraham Joshua Heschel High School, genetics at Columbia University as a member of the adjunct faculty, and taught DNA science and evolution at the American Museum of Natural History, where he served as the director of genetics education.
Since 2011, Dr. Aviv has been the driving force behind one of Schechter Westchester's signature programs. He designed, developed, and teaches the innovative Engineering and Entrepreneurship program (E2), a multi-year course where students not only learn basic structural, electrical and computer engineering concepts through group design competitions, lectures, and formal exams, but also engage in unique real-world learning experiences. Each year, student teams form companies, create corporate branding and identity, pitch their ideas to investors, and design and build a culminating product that aims to solve a real-life problem. Dr. Aviv uses fearlessness as a lens to encourage E2 students to seek their own answers, see failure as an important part of the process, and achieve what they never thought was possible. He has inspired many of his students to pursue the study of engineering in college.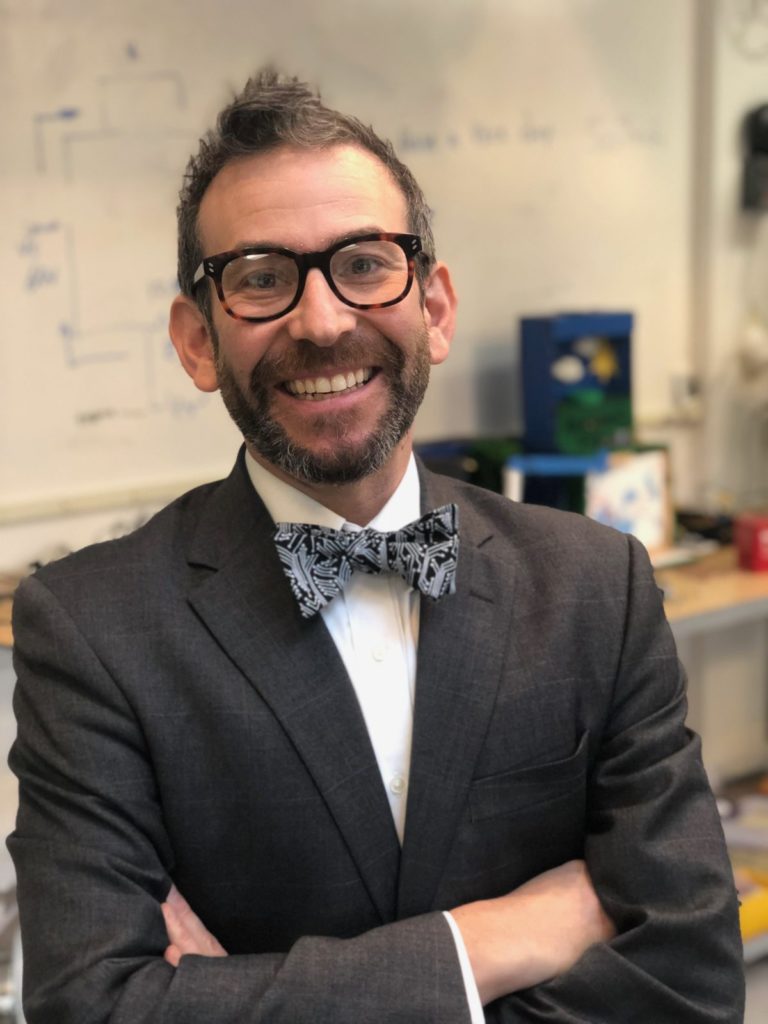 This entry has been tagged with the following terms: