Students learn breathing and meditation techniques, and tools for emotional regulation in the classroom as part of the morning Tefilah ritual. Each meditation deepens the students' connection to their Jewish identity by connecting to weekly Parasha, the Hebrew month, and Tefilah. Students reflect on how they connect as Jews and spiritual beings.
Entry Narrative
Jewish Meditation
The foundation of Judaism is the realization that life has purpose. This is the central belief of Judaism and impetus for observance of the Jewish faith. It is ancestrally ingrained is us as each generation fought to establish their purpose and make meaning out of existence. It begins with Moses leading the people of Israel out of Egypt as the first declaration of the Jewish nation as free and with purpose, and it continues throughout history to today, as the Jews still battle for peace. Jewish rituals and prayers are designed to allow us to cleanse, connect, and deepen our understanding throughout the year. Within the text from which emerge our Tefilot, there are references to meditation, known in Jewish literature as Hitbodedut – or, being within oneself. In addition, the most important of all Jewish disciplines today is the blessing. Judaism has a blessing for almost every action and natural occurrence. From waking, to dressing, to eating and drinking, to exiting a room. When a blessing is recited before an activity, the act itself becomes a spiritual undertaking. In that sense – meditation is present with observant Jews in every facet of their lives.
The Jewish Spiritual Child
A Jewish child is born with a Jewish spirit that is uniquely created in God's image to fulfill a purpose, and pursue a passion that enriches the world they are born into. Each Jewish child is born with an inherited connection to a world and a Higher Being beyond their conceptual understanding. They are inherently spiritual beings, with a deep natural curiosity and wonder for the world around them. Children are born naturally generous of heart and spirit, demonstrating complex empathy for others around them at barely a few months old. The essence of Judaism is to create a culture in which children are able to have a sense that they are part of something greater, and deeper.
In Judaism, the passage of a spiritual legacy and history is woven into education as the child grows and develops their emotional acuity, intellect and wonder. Connecting children to something larger than themselves allows them to make sense of how they fit into the world that existed before they were born. It is the basis for identity and imbues them with a sense of confidence – allows them to own their Ani – their "I Am".
Terms for Jewish meditation
Hineini – "Here I Am" – the heart and soul of any contemplative practice.
 Neshima – "Breath" – Connecting students to their breathing.
Nefesh – "Soul/Spirit" – connecting the outer experience to the inner world.
 Lev – "Heart" – The central spiritual checkpoint on the body.
 Rosh – "Head" – Vessel for information and connection to the material.
Derekh – "Path" – The way to purpose.
 Chessed– "Compassion" – Showing love and kindness to the self and others.
Tzedakah– "Giving from self" – Charity of self, time, and spirit.
Tikkun Olam – "Repair of the World" – Idea that Jews bear responsibility for not only their own welfare, but also for the welfare of society at large.
Truah– "Purpose" – The ultimate reason for being.
Tenets of Jewish Meditation
Neshima – Breathing Practices
Breathing is the foundation of all contemplative practice and any tool designed to regulate stress and anxiety. The breath is the ultimate checkpoint in the body, as well as an instant barometer of the body's emotional state. In the classroom, Neshima builds up over time – as the year progresses and students become more comfortable with the exercise, there is opportunity to deepen and explore further breath variations.
 Think, Thank, Do – Contemplative exercises for Jewish education connect to the ancestral wisdom of the prayers, and the Torah. Students are taught and encouraged to live life according to the teachings of the Torah.
Minyan (Community) – A community for prayers, and in this case, a community for meditation. Identifying a practice as a Minyan practice establishes the difference between a group/class meditation and a meditation with the self. Just as certain prayers in Judaism require a Minyan to be present, certain actions or meditations require the presence of the class.
 Kavannah (Intention) – Prayer in Judaism is defined as service of the heart. Praying with Kavannah means to pray with passion, purpose, and intention. Likewise, meditation with Kavannah means to connect to the self with a strong intention and purpose. This translates as concentration for the exercise and making meaning out of the guiding words. With Kavannah, we integrate our purpose into our mind-body-spirit self.
Latet Toda (Giving Thanks) – Gratitude is an essential part of connecting to the self and to the Higher Self. Teaching the students to appreciate what they have, who they are, and where they are in the world allows them to access the meditations and exercises with more ease.
 Slichot (Forgiveness) – The Slichot Prayers are recited on days of fasting, times of trouble, and in the ten days before Rosh Hashanah. "Slakh Lanu" – Forgive us – is repeated, and we rise from our seats together and ask for forgiveness as a community. The Slichot meditation focuses on heart energy. True forgiveness, especially of the self, has deep roots in the heart.
Proyekt "Ani" / The "I Am" Project
The goal of Proyekt "Ani" is to create safe spaces to bring students into themselves, to connect with their spiritual self, to help them become more resilient, deal with life's ups and downs, and embrace their uniqueness. This is translated through a series of in-class rituals for students to develop self-awareness through a combination of breathing and meditation, mindful movements, and creative expression. Proyekt "Ani" gives Jewish students practical and relevant tools to relieve stress, manage social anxiety, and express emotions in healthy ways. The tools are built upon a foundation of positive psychology, mindfulness training, and movement methodologies as well as an in depth study of Jewish Spirituality, the Jewish Day School structure, and the spiritual themes of the Jewish year. While some of the practices are classes in and of themselves, many of them integrate with Tefilah (prayer), and with the ongoing themes of each Jewish month. Teaching these practices in the classroom and weaving it into their already existing studies embeds them into their way of being and enables long term, sustainable success. Proyekt "Ani" teaches each child how to integrate these practices into their daily routine, all of which helps them feel stronger, healthier, happier and more aligned with their spirit.
It is essential to create ritual around the teaching of contemplative practices and mind-body-spirit tools in the classroom. Students expect structure in school, and these tools are most efficient when they fold into that structure. The continued practice of these tools subtly infuses each student with the enhanced ability for introspection, and increased awareness about themselves and their world. When these tools are incorporated seamlessly into the classroom – for example, after morning prayers, or in between subjects – students are able to become comfortable with them.
For example:
Schedule for the Day
8:10 – 8:25: Tefilah (prayer)
8:25 – 8:35: Neshima and Shema Libi (hear my heart) exercises
8:35 – 9:30: Bereishit workbook
Integrating Meditation and contemplative practices
Traditionally, Jewish Day Schools are split across a school day between general studies – math, science, English, social studies, and Hebraic studies – Hebrew language and Judaic Studies. The Hineini curriculum is designed to be integrated into the Jewish Studies classroom, but truthfully, the daily practices can be integrated into any classroom. Below is a suggested template for integrating the practices, workshops, tools, and meditations into a Jewish Day School schedule.
Daily Practices
It is recommended to include two daily practices into the lesson plan – Neshima (breathing exercises), and Hodeya ve Mudaut (gratitude and awareness – body exercises). These are the foundation for the deeper learning that occurs during the monthly Rosh Khodesh exercises that connect the practices to the Jewish months and holy days. As per the recommended schedule above, these practices can be used to start off the day – or they can be included anywhere in the lesson: to give a break, to transition between subjects, or simply to take needed moment of quiet.
Rosh Khodesh Workshops
Once a month, on or around Rosh Khodesh, it is recommended to hold a day of Hineini workshops. Below you will find a brief workshop outline for each of the Jewish months. Depending on the size of the school, these can be done in a community space, such as the lunchroom, or they can be done in the classroom. It is one day each month where you will designate a class period to connecting the Hineini practices to the themes and messages of the current Jewish month.
Pinat Shalom ve Ahava
Designating a space in the school, or in the classroom, as a Pinat Shalom ve Ahava   – "Place of Peace and Love" allows there to be a neutral space for students to go into when they need to take quiet time for themselves. This can be an alternative space to sending children to the principal when they disrupt class. Instead, students can be encouraged to self-regulate by noticing when they need to take a moment to breathe and regroup. In addition, it can be a known and honored place – much like the bima (altar) in synagogue – where students can go to when they feel anxious, stressed, nervous, overwhelmed – or otherwise emotionally uneasy. Teachers can engage their students in deciding what should be in this space. It could include images of the places where the children feel calm, journals, coloring materials, natural elements – etc. Ideally, the space will be large enough for at least one child to sit in comfortably – perhaps include pillows, or a yoga mat. Draft an agreement with your students to designate this space as sacred space in the classroom, and display it near the space.
Hagigat HaYeShua
Most Jewish Day Schools include in their curriculum a school-wide celebration of the Passover holiday with an inclusive Seder, or festive meal. This meal is usually organized by the older grades in the school, or by the administration. The Seder is a gathering in which we read the story of Moses delivering the people of Israel out of Egypt. As part of the Seder, include a short but meaningful celebration of freedom in which you honor the progress made by the children through the Hineini exercises. Allow the children to share on their own personal experience, and how they feel that these practices have allowed them to experience freedom in their own lives.
 Guidance For Teachers
A teacher willing to incorporate contemplative practices into the classroom need only remember the following tenets: Practice, Patience, Passion, and Persistence.
Practice
The tools offered in the guide are designed to be simple, practical, and accessible. In order for successful implementation into the classroom, it is important that the teacher embody – to some degree – embody the practices. When you, as the teacher, become comfortable incorporating the practices into your own life, it will become easier to introduce them to your students. The key for developing a personal contemplative practice is just that – practice! The tools on their own offer a momentary glimpse into the potential of creating space for reflection and attunement. When they are implemented into daily practice within a series, the benefit is lasting transformation and opening of spiritual awareness. This guide is designed so that the practices integrate into the Jewish Studies curriculum, and the development of a practice for the teacher can incorporate into time set aside for lesson planning. Students will mirror the excitement of the teacher to share the practices, and will benefit from added depth to their studies as they connect with the material spiritually, as well as intellectually.
Teachers may need to set aside a few weeks prior to the start of term to regularly practice the central Neshima – breathing practices – which they will be teaching. The breathing practices are effective relaxation and stress reduction tools, and should hopefully be enjoyable to practice. Teachers should use them any time they feel stressed, or to set up a daily contemplative practice. The more teachers practice and internalize the tools, the more genuine their own teaching will be.
Patience
An open and accepting presence in is essential for the teaching of these practices. Contemplation practices and mind-body-spirit tools cultivate the appreciation of meaningful silence, introversion, and reflection. While children are generally eager for alternative methods of instruction, it is important to remember that the acquisition of this new skill will take them time. These are new skills, with concepts and challenges that they may not have faced before.
Meditation and introspection are integral for deepened connection with the spirituality, and for Jewish students, with their Jewishness. They are skills that take careful, mindful, and patient teaching. As the teacher, you model the practices and you also model the energy and intention behind them when you teach. Children, especially in younger grades, will respond to your nonverbal instruction just as much as your verbal instruction. The students will be constructing their own knowledge, and each one will have a unique experience – possibly every day. By holding a safe and compassionate space for this to happen, the teacher has the unique opportunity to be both guide and co-learner, going deeper in your own inner self as the students go deeper into theirs.
The creation of ritual around the practices – when they are done, how often, how long…etc – will enable students to become comfortable with them, and internalize them. Take the time to familiarize yourself with the practices, the concepts, and to approach the teaching with patience.  If you are able to be patient with yourself, you will be a supportive guide for your students.
Passion
Students love nothing more than a teacher who is passionate about their subject, and their work. Children are quick to realize when a teacher is genuinely interested in what they are teaching, and when they are just phoning it in. As you prepare to teach the practices in your classroom, take the time to immerse yourself in the experience and become excited about the process of going inward. In Judaism, a connection to God requires a focused and honest intention to connect with the spirit. Consider these practices the express lane to that connection – the tools are designed to coax open those inner doors that are most elusive. Your students will hopefully be excited to connect and discover what lies within, and they will look to you to mirror that same excitement. Hopefully, the students will at times become the teacher, and be eager to share their pathway inward. It is important to allow the students to express, debrief, and share their experience, and to listen attentively as they do so.
This guide will provide you with the necessary lessons, exercises, tools, terms, and instructions to integrate the practices into your class with ease. As you go through, think about how you might use the practices to deepen the class's connection to the material. The practices, particularly the Neshima practices can be portals towards a deeper plane of understanding of the Torah.
Persistence
It is easy to say, "this is too hard for me – I'll never get it." – you are the shepherd in your classroom, it is up to you to ignite the children's curiosity and interest in continuing the practices. When we embark on the journey towards inner connectedness, we are often frustrated at the first sign of challenge. I'm basically just sitting and breathing, this should be so easy! But it's really hard for me…Be prepared for students to question and argue with the purpose of the exercises. Don't worry – there is no need for you to be an expert in meditation, just to reassure them that you are on this journey with them and that you will take it step by step. Soon enough, you will realize how deeply the students are integrating the work – perhaps when you lose your patience with them during class, and a student tells you to do a Neshima (take a breath). Gradually, it will cease to be work and become a natural, automatic practice.
Once you introduce the practices, involve the students in making a spoken, or even written, commitment to at least a couple of months of regular Neshima practice together with the students, so that there is enough time for a progression and evolution of the exercises within the class. It can be helpful to have regular check in points with the students to evaluate the process –ask them how it is going for them, and whether there is anything they think should change about what you are doing. No matter how we practice meditation and building awareness, it offers the gift of calm and clarity when difficult times arise – which they inevitably will. The ideal scenario is to have a regular time for quiet and Neshima, but this may build up gradually. The world is not always a compassionate place, but if we teach them, they can discover that their greatest challenges can be the doorways to their greatest opportunities.
——
Videos:
Proyekt "Ani" Meditation in the classroom: https://youtu.be/QGC5O8fp3Cs
Current students talk about their experience with meditation in and out of the classroom:
Aviv, 5th grade: https://www.youtube.com/watch?v=vSf2ySvi_RI
Yoni (in Hebrew), 5th grade: https://www.youtube.com/watch?v=cHNfeR2LUeM
Natalie, 6th grade: https://www.youtube.com/watch?v=JbaD9PSlrew
Images:
[4th Grade Students meditating in the classroom]
[5th grade boys engaged in an activity called "Community Kavannah" – connecting through the power of Tefilah with intent and meditation.]
[5th grade girls engaged in an activity called "Community Kavannah" – connecting through the power of Tefilah with intent and meditation.]
Entrant Bio(s)
Yali Szulanski, M.A., is a Judaic Studies teacher at Kinneret Day School in grades 5, 6, 7, and 8 and the founder of The "I Am" Project (www.iamproject.co), through which students integrate contemplative and mind-body-spirit practices into their lives in accessible and practical ways. Yali has also written Proyekt "Ani" an award-winning curriculum that integrates contemplative and wellness practices into Jewish Day School classrooms. She is currently piloting this curriculum at Kinneret Day School in grades 2-8 in the Judaic Studies classrooms. Yali creates spaces in which people can safely explore their physical, mental, emotional, and spiritual health and is interested in how contemplative practice and creativity intersect with traditional systems of education.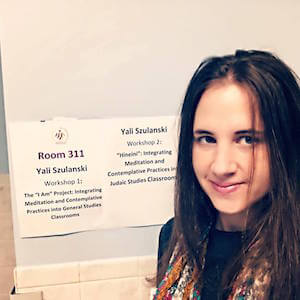 This entry has been tagged with the following terms: