The low amount of organ donors worldwide creates a lack of supply of organs for transplant. Students write a personal essay on whether or not they will sign an organ donor card, as well as produce an event with the goal of educating the community about the the problem of organ trafficking and its relationship with the signing of an organ donor card.
Entry Narrative
Rationale
The price of life project evolved from a Project  Based Learning (PBL) workshop I took from the Buck Institute of Education in which I redesigned 2 units from my medical ethics class: Organ Donation and Palliative care. The BIE Gold Standard for PBL inspired the elements of my project design. The driving question was "What can we as a class, propose or design to help solve the problem of worldwide organ trafficking?".  I took the curriculum (see syllabus from 2016-17 here) I'd been teaching for 3 years in my Medical Ethics class and turned it on it's head. The unit dealt with end of life issues such as euthanasia, DNR, and palliative care, with the core issue being the complex controversy surrounding cadaver organ donation in the Jewish community. Having taught the unit before, I knew the material was captivating in it's own right, and it had the ability to engage students from all backgrounds in the ethical and Halakhic process of analyzing a complex biomedical question. But I identified in past years, there was always an "anti-climactic" moment. After we had gone through live organ donation in Halakha, brain death, and cadaver donation, we had not explicitly addressed the "elephant in the room": how was this information affecting the students' decision whether or not to sign an organ donor card? From interviewing past years' students, I gathered anecdotal evidence that some of the most engaged students were able to articulate logically what the arguments for signing an organ donor card were, but still felt uncomfortable signing a card without being able to explain why. The "So What/Now What?!" was missing. Another student, convinced that signing an organ donor card was the right choice after the class, reported that after discussing the issues with her mom at the dinner table, her mom dismissed all of her logical arguments for signing a donor card with "that's not true, Judaism doesn't allow organ donation, I'm not interested in the arguments". The inability to be able to follow up effectively with her mom struck me, since I knew the student had internalized the arguments intellectually.
Additionally, the topic of organ trafficking was taught almost tangentially, at the end of the unit, by watching the movie "Tales from the Organ Trade." The movie served as a sort of "footnote" to the main elements of the unit, and demonstrated the unfortunate repercussions resulting from the low numbers of organ donors in many countries.
After learning more about PBL and its emphasis on real world learning, I realized there was a missed opportunity for an authentic real-world problem buried within my existing curriculum. Instead of teaching the units on Pikuach Nefesh; live organ donation; brain death; cadaver donation, and organ trafficking linearly, I would reverse the order of the unit, and start with  a student-led project driven by the  question: "What could we propose or design to help solve the problem of worldwide organ trafficking?"
It must be emphasized that the goal of the class was and remains, not to convince students that they must sign organ donor cards, but rather critical thinking and a nuanced understanding of multiple facets of  a complex issue.
The following are the content and content related skills I hoped to achieve through this project, as well as the the universal 21st century skills that would be necessary for implementation of the project.
Objectives:
Content skills:
Students will…
Identify and analyze the Halakhic, Scientific and Legal complexities regarding: Brain death; Organ donation; End of life issues (euthanasia, DNR, Physician assisted suicide); Burial without significant body parts; Saving a life

Locate a primary Halakhic source in researching an ethical question

Write an informative essay citing Scientific and Halakhic sources

Weigh ethical pros and cons pertaining to an ethical question

Synthesize ethical, legal and scientific questions to break down an ethical dilemma
2. 21st century skills:
Students will…
Publish a convincing blog post describing their approach to a practical solution (critical thinking) to organ trafficking

Collaborate with peers within their own class and in other classes to identify the best charity to donate money to for their cause

Identify when it is appropriate to bring in outside experts and organizations and communicate with them to form an effective collaboration which enriches the project

Communicate my cause to an online audience

Communicate to a target audience with a specific ask (invite to the event/donate)
Process:
Entry Event– The unit begins with students watching the movie "Tales from the Organ Trade" and the trailer for "Hard to Believe". Watching the movies served as an entry event with the goal of exposing students to the problem of organ trafficking and organ harvesting. The rationale for watching the full movie "Tales from the Organ Trade" was that students will gain a new perspective on and empathy for those waiting on the transplant list and gain an understanding of what drives people to look for an organ on the black market. The rationale for watching only the trailer for "Hard to Believe" is that (1) there is less available data regarding organ harvesting in China, as it is still under investigation, and (2) the ethical problem of organ harvesting is much more self-evident to the students. The first movie provides a more "gray area" ethical dilemma, which serves the students in developing their critical thinking and ability to see multiple sides when thinking about an ethical question. Another interesting reason that watching Tales from the Organ Trade is valuable, is the depiction of the role Israel plays in the international organ trafficking rings. This brought the issue closer to home for many students and caused them to ask the question- Why is Israel, which symbolizes to many of them "a light unto the nations,"  involved in this criminal network?
Reflection- After watching the movie, students were able to ask clarifying questions about what they saw, and we held a short discussion in which they shared their initial reactions and thoughts. Students were then asked to write a reflection essay as a formative assessment to evaluate their understanding of the problem. As part of the requirements for the essay they were asked to research and define in their own words the terms "organ trafficking" and "organ harvesting" and to explain the difference. The requirements of the essay were to: 1. Describe the problem; 2. Describe their emotional and intellectual reactions; and 3. Propose initial solutions to the problem. The students' essays were graded on their understanding of content, their originality (bringing their own voice), and critical thinking.
Students shared some of their conclusions with the class after writing their essays.
Driving Question: The driving question and process were presented.
It was important that the students understood some of the elements of PBL- in order to build culture. They were assigned their roles as delegators rather than as experts. 
"Need to Know" list: In pairs, students brainstormed the sub-questions they needed to ask in order to start their inquiry. Students then learned how to ask different types of questions.As a group, students worked collaboratively to compile a "need to know" list. Before writing the list they learned how to ask three types of questions using sentence starters such as: "Should" (ethical), "How" or "what" (Scientific), and "is it legal" or "is  it Halakhic" for legal and Halakhic questions. For an explanation on how to teach ethical thinking skills, please see this helpful supplement from the NIH's bioethics curriculum: https://science.education.nih.gov/supplements/webversions/bioethics/guide/teacher/module-1-activities.pdf .
Voice and Choice:
In an attempt to balance student voice and choice in the final product, students were given a semi-structured project outline. The following personal and group summative assessments were built into the project:
Personal Essay Tshuva- "Will I sign an organ donor card"
Group products:
Social media campaign

Community Event
Although the format for the group products was predetermined, the content was not. This led to a brainstorming session where the students had to figure out: what solution could they propose that would be most effective in making a difference to the problem of organ trafficking? How could they promote this solution through social media and a community event?
Sustained Inquiry:
Students designed their learning experience through asking the "need to know" questions. Admittedly, this system was not perfect, as it did not produce the desired effect of the students generating an agenda that matched my own learning objectives. What assisted me in balancing students' various tempos with my objectives, was giving students the following documents to refer to as benchmarks of skills and content to be learned throughout the unit:
Student Learning Guide

– to reflect on their skills progression and general content

To keep track of their learning of content, students referred to

practice questions

that covered all of the content subunits required to succeed in the individual and group summative assessments.
At Kehillah Jewish High School, we offer Jewish Studies classes for students with no Hebrew knowledge as well as those who have background in Hebrew and are interested in studying texts in the original Hebrew. The Hebrew Intensive (HI) class studied the texts in the original Hebrew, using note taking guides to help them focus on the important points in the text, teaching them how to translate and gain independence. Students studied the sources pertaining to the definition of death in Judaism, examining texts and asking critical questions about them as they went.
Critique and Revision:
Students used peer critic to revise each others' work as well as specific protocols (Charette). It was amazing to see what a big difference using these protocols made in the students' self-directedness and motivation. A teacher who came to observe the students' charette said to the students: "What you are doing is amazing..You are exhibiting the highest level of Bloom's taxonomy".
Communication and Collaboration:
Students were assessed on communication and collaboration, which are both considered important 21st century skills.
Communication: They reached out to rabbis, speakers in the community, and parents of their peers. The following are some examples of materials they produced to reach out to various target audiences:
Students wrote a

letter to speaker

template directed to speakers and organizations.

Students wrote a

letter to parents

to explain the goal of the event and to motivate parents to start the conversation with their children. The letter was reviewed by the head of school and revised by the students. It was then sent out in the weekly school email communication.

Students held group discussions in which they were each required to contribute. They received group grades based on the Harkness method rubric.  
Collaboration:
Students kept track of their work using BIE's task log .
Students were held accountable for collaboration based on this rubric. Based on the rubric, students created a Google form to fill out in order to review each other's performance.
Check-ins: Students had to reflect on their roles, using the reflection to critique and revise their products.
Reflection
Relevance – the real-world application of the material provided a rich learning experience for students to be mostly self-driven and engaged in the material. Writing the personal essays about their decision to sign or not sign an organ donor card was probably the most significant outcome in terms of the relevance they found in the material. The event provided them with an opportunity to take ownership and pride in their learning, and to see themselves as experts with some valuable content to share with their peers.
"So What"/"What Now"– Students were put into a situation where they had to decide whether they were going to sign an organ donation card themselves and justify their answer based on the content they had learned throughout the semester. They were also put in a position to try and convince their peers of something that they themselves believed in.
Social media campaign– my assumption that Facebook would be a relevant social media tool, was mistaken. Students, who communicate with peers mostly through snapchat, were less inclined to express themselves fully in writing than I expected and did not meet expectations in creating an effective social media campaign.  The time spent on the campaign detracted from the summative product- the event.
Fundraising- In the initial outline of the project, I had included a pitch to raise money for an organization of their choice as one of the students' benchmarks towards their goal of helping solve the problem of organ trafficking. Although I still believe that the ability to create a pitch and to raise resources from the community are important 21st century skills, this benchmark did not seem feasible after I observed the results of the social media campaign effort.
Event- the initial plan was to host an evening event for the outside community, so as to have as far-reaching an effect as possible. Due to the students' low quality of work in the social media stage, the event was not promoted sufficiently. This caused us to have to rethink our target audience. In the end we "settled" on the student body (and by extension their parents) as our target audience. I think that in the future I would aim to hold a public event as it serves as a more authentic audience in the students' perception. In order to avoid the problem of poor campaign efforts, I would institute the Charrette and Tuning protocol earlier on in the project, as they proved to be very effective in focusing the students on the desired results later in the project.
Entrant Bio(s)
Mrs. Racheli Shandrovsky teaches Jewish text studies at Kehillah Jewish High School. Racheli holds an M.Ed from Bar Ilan University School of Education with a focus on Science, Halakha, and Education.
Trained as a Middle School Science teacher at Michlalah College in Jerusalem, she has over 8 years of experience teaching science in various middle schools and high schools in Israel.
Since arriving in the Bay area in 2013, she has taught Science, Jewish Studies, and Hebrew language. Her training in the Buck Institute's Gold Standard PBL 101 and 102 courses inspired her to implement Project Based Learning pedagogy in her interdisciplinary Jewish Studies curriculum.
In addition to formal teaching, she has worked with teens at risk as a dorm counselor and program director. In 2012, Racheli co-published a paper in B'Or HaTorah called "Preimplantation Genetic Diagnosis (PGD) and Prenatal Gender Selection" which was based on a poster she presented and won first place for at the International Science and Halakha convention at Bar Ilan University in 2012.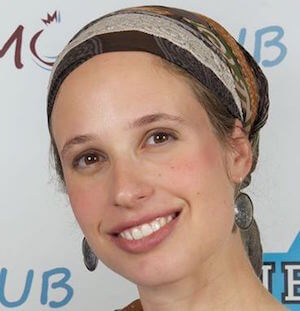 This entry has been tagged with the following terms: