Students study texts as they learn about the shifts in the cultural and religious roles of women. This is taught concurrently in both Judaic studies (Rabbinic Literature) and Modern Jewish History classes. Course culminates with students choosing elderly women of the community to interview and then represent in a community-wide celebratory exhibit.
Entry Narrative
The Modern Jewish Woman
Many schools seek to educate and inspire students to be exemplary global citizens with enduring Jewish identity and values.
Women make up approximately 50% of the human population and thus "global citizenship" necessarily includes the ability to interact well and respectfully with both women and men. "Jewish Global Citizens" would be defined as people who perceive and act upon the world in an effective, authentically Jewish values-based manner. In the Modern Orthodox framework, certain standards of tradition and halacha are inviolable and in teaching this topic these standards must be adhered to.
In our experience, many students are NOT leaving their Jewish high schools as Jewish Global Citizens. This is often evidenced by first hand reports from alumni regarding their inability to create relationships within the progressive and diverse population on their college campuses.
—
Seeing that the current issue is the students' lack of knowledge and education about Women's Studies, educating them would help preempt students' ignorance and preconceived notions of gender bias and lack of knowledge about women's issues in Judaism.
An effective curriculum has been implemented in Modern Orthodox Jewish education that would address all of the above issues by exploring women's issues in general as well as the historical and cultural shifts in women's roles, and streamlining this with classical Jewish texts to result in a halachically sound understanding of women's roles in modern Judaism. This will allow students to explore their Jewish identity and values as halachic Jews.
—
After two 4-week units in both Rabbinic Literature / Jewish Ethics and Modern Jewish History, 11th grade students will be able to present a summative project-based assessment demonstrating appreciation and understanding of  the complex and cultural shifts in  Women's Issues in the context of history and Orthodox halacha.
Students will spend time interviewing female elders (following JWA standards) of the community to develop a true sense of these historic shifts in the role of the Jewish woman. Additionally, students will create an artistic presentation that accurately depicts and celebrates the unique life and accomplishments of their interviewee. A community-wide invitation was sent out to invite all families, and in particular the Jewish women being celebrated, to an elegant evening showcasing our students' artistic exhibits in celebration of the women in our community. 
Infrastructurally, our art department assisted in the design and presentation the Celebrating the Modern Jewish Woman event. Our graphic design and advancement teams promoted the event. Externally, a grant was secured from the Greater Miami Jewish Federation Women's Impact Initiative in support of the event, allowing us to engage Rabbah Sara Hurwitz as a guest keynote speaker.
A photo album from the inaugural event may be seen here:
https://goo.gl/photos/2asb7yQnni9bxF557
A school-produced video may be seen here:
https://www.youtube.com/watch?v=WarDteG2wvE&feature=youtu.be
Entrant Bio(s)
Rabbi Elie Ganz received his Rabbinic Ordination from Sh'or Yoshuv Institute in New York and teacher certification from the New Teacher Center at the University of California. He is active in experiential and informal education and has served as a director for and consultant to several wilderness therapy programs. He holds IWLS certifications as a guide in low alpine mountaineering, rock climbing and sea kayaking, and maintains current Wilderness First Responder and Professional Rescuer certifications.
Yehudis Benhamou has a BA in European History from University of Manchester and a MA in Modern European History and a diploma in Women's Studies from Florida International University. Yehudis currently serves as Director of Curriculum at YULA Girls in L.A.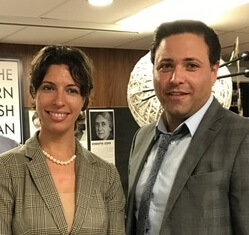 This entry has been tagged with the following terms: