Middle school students completed a project in their STEAM cross-curricular class and followed the Teshuva process to "realize," and thus capitalize upon, their mistakes and successes; this highly replicable, easily transferable project took on a far-reaching mind of its own, with students at the helm of the real-life skills ship.
Entry Narrative
One day back in 2017, Ms. Sundaram, an award-winning STEM teacher here at Joseph Kushner Hebrew Academy, and I– Ms. Landy, a Language Arts teacher at JKHA– had been discussing the very-real problem of a lack of students' "looking back" on their failures and successes, and their subsequent failing to learn from them. We became worried when we both saw, albeit in decidedly different subject matters, the unfortunate consequences of students who were unable– or, perhaps, were never trained?– to critically analyze, and thus creatively, positively, and proactively approach their schoolwork and life's work as a Jew. We wanted to create a highly transferable project– so transferable, in fact, that people of all ages and religious "levels" could benefit from it– that would provide a platform for our, or anyone's, students to think analytically, and ultimately, allow for and encourage real-world learning and impactful change to take place.
We also felt it was of vital importance that– once the project had been completed– our students would have internalized that anyone has the potential to be a creative thinker when provided with the appropriate tools. We discussed this problem and our desired end goal, and realized that although the engineering, Teshuva (repentance), and writing/editing processes seemed to be entirely unrelated, we could, in fact, collaborate our subjects and background knowledge in a productive way to help our students think critically and innovatively using their mistakes and successes, both in and out of the classroom.
What came of our brainstorming session was our "Mishkeh (Hebrew for "mistake") Mechanic/Success Strategist" project, the 2.0 version of which you are currently reading, which was significantly reiterated during the 2018/19 school year. Last year, eighth grade students created a machine that used the concept of electrical engineering to solve a problem around them. During this process, they looked at their inventions and reflected on what went well and what did not. They became "Success Strategists" in an attempt to understand the elements that led them to success, and enhanced this success further in multiple ways. While acting as "Mishkeh Mechanics," students thought about the mistakes in their process or final product, and considered the causes. Then, they worked on repairing these mistakes, all the while documenting their progress.
This year, in Ms. Sri's sixth grade STEM classroom, students had to create Jewish-themed games; while designing them, they were required to ensure their games enhanced the space-science based skills of navigation, probe/building, life support-research, and/or space communication. Some of the brilliant games that were invented led the first and second grade players between various geographical points in ancient Israel, taught the players Halachot (Jewish laws) and Middot (characters traits), and even reinforced Jewish holiday routines. Sixth graders used their Judaic Studies skills and knowledge to create these games, and after playing the prototype of the game, the younger children offered critical feedback on, and suggestions for, the final version of the game.
Next, we had our students craft "non-fiction narratives," where they used the general Teshuva (repentance) process– that of remorse, confession/admission, and resolution– to "realize" their mistakes and capitalize upon their successes, all while following proper writing format and embedding their new writing skills and techniques in their responses. This wearing of the mistake mechanic "hat" proved difficult for our kids– they were not used to failure, and they certainly had never felt that being "unsuccessful" could be a good thing!– and their anxieties charged us with the responsibility to make sure that we, too, learned from our mistakes and successes. Even tougher for the students, surprisingly, was for them to find their successes and enumerate them clearly; specifically for those children suffering from anxieties and/or low self-esteem, this project was particularly enlightening and rewarding.
This year, we really wanted to drive home the point that these strategies, while learned in, and useful for, the STEAM and Judaics classrooms, are, in fact, mostly applicable to their lives as Jews, friends, and community members. This reiteration, a version of which was first implemented last year in our eighth grade classes, was extended to our sixth graders over the past few months; we have also been in communication with our former eighth graders and received feedback from teachers in multiple subject and grades. We hope you will be able to see how valuable this project is in its scope and huge potential for lifelong lessons, particularly as it relates to each student's personal Jewish practice.
Our project was implemented in different grade levels, including lower, middle, and high school, is replicable in other subjects, from Social Studies to Tanach to Hebrew language to Math to Halachah, uses the lens of Torah-based life lessons to inform our students' practices in the classroom, and, most importantly, affords our students a wonderful opportunity to "walk away" with transferable and applicable "real-life" skills.
Entrant Bio(s)
Ms. Sri, as she is affectionately known, is a STEM teacher at JKHA. She loves learning and experimenting, is a NASA-certified STEM Teacher-Leader, and before joining JKHA's Middle School team, she taught in India, her home country. Ms. Sri is always excited to collaborate with others and consistently bridges research practices and classroom learning .
Ms. Landy is a Language Arts teacher at JKHA. She is permanently curious about the world around her, LOVES reading, writing, and eating, and is a certified Google Educator. She works hard at taking English literature and Jewish ideals and making them relevant to today's society and the modern-day student.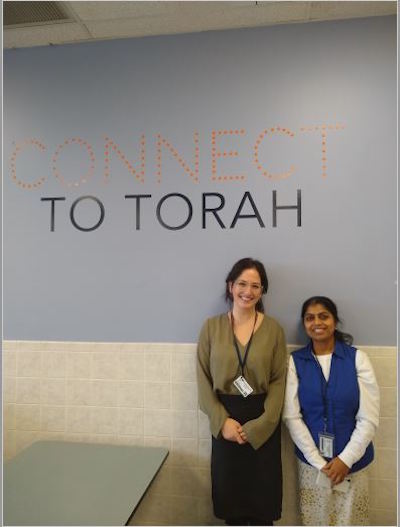 This entry has been tagged with the following terms: