What character traits enable a human being to find within himself the courage to risk his life for the sake of others? This is only one of many questions discussed in an exciting, interactive class that catapults high school seniors into a deep exploration of their own character and what it means to achieve a "life well-lived." During high school
Entry Narrative
Middot Through Media
During World War II, Sempi Sugihara was a member of the Japanese diplomatic core stationed in Germany. When a Jewish man came to Mr. Sugihara begging for visas to save his life and the lives of his wife and children, Mr. Sugihara immediately wired his superiors in Japan.  His request was denied.  So instead, Mr. Sugihara and his wife wrote out thousands of visas by hand, risking their lives to save the lives of 6,000 others. When he returned to Japan, Mr. Sugihara was stripped of his title and reduced to selling light bulbs door-to-door. It was not until years after his death that the Japanese government reversed its official position and Mr. Sugihara was hailed a hero.
What character traits enable a human being to find within himself the courage to risk his life for the sake of others? This is only one of the many topics discussed in an exciting, interactive class that catapults high school seniors into a deep exploration of what it means to achieve a "life well-lived." During high school, a time when adolescents are actively struggling to form their own unique identities, Middot Through Mitzvah offers a pathway of discovery through a thoughtful exploration of topics addressing the questions teenagers ask of themselves: Who am I? What do I believe? What is my purpose? How will I show up in the world?
Middot Through Media includes seven modules entitled: No Limitations, Forgiveness, Racism and the Benefit of the Doubt, Meaningful Life, Happiness, Chesed – Kindness on the Road, and What Do You Truly Own?  Each unit of Middot Through Media begins with an introduction to a topic from a Torah perspective using original Judaic sources (Tanach, Mishna, Gemara, Tehillim, Rashi, Rambam, etc.).  The unit then exposes students to a multitude of voices on the subject through videos, articles, songs,podcasts and movies. All media selections have been selected so as to offer insight into a broad range of cultures, ethnicities and religions. expose students to a broad range of cultures, ethnicities and religions. Rather than emphasizing differences, however, the focus is on the similarities that bind all people to the race of humanity. These media selections are then paired with experiential exercises and reflective essays that allow the students to grapple with these topics on a personal level.
In one of the initial experiential tasks during the first unit, No Limitations, students are given a piece of paper with an outline of a large circle in the center.  Students identify their three strongest and weakest character traits, writing the strong traits inside the circle and the weaker ones – their "limitations" – outside the circle. Each student then picks one of his limitations to work on throughout the rest of the semester.  Acknowledging that every person has limitations – whether cognitive, moral spiritual, physical, or emotional – enables students to shift their focus from limitations to strengths. A picture of a disabled athlete viewed initially by students as someone suffering because of the loss of his leg, transforms by the end of the unit into a picture of an athlete admired for his strength in pursuing goals and dreams, despite his limitations.
During the unit entitled Forgiveness, students explore the character traits of one who seeks and one who offers forgiveness, and question whether one can forgive without forgetting. The unit on Racism and the Benefit of the Doubt begins with Judaic sources that provide insight into the commandment to give others the benefit of the doubt. Using readings, videos and experiential games, this unit then helps students uncover and confront assumptions – often outside conscious awareness – about others who are different. In consciously acknowledging their assumptions, students are able to put them aside and notice the similarities that exist among all people.
The unit entitled Happiness asks students to consider whether it is money and fame, or gratitude and showing up for others, that defines a path to lifelong happiness. During this unit, each student writes a letter of gratitude to someone who has made a difference in his life, and later shares it with the person in what is an inspirational experience. By recording or video-taping the readings, students are able to share their experiences with the other students in the class.  The unit entitled Meaningful Life speaks to the power of love and connection by sharing with students video clips from Tuesdays with Morrie, audio of the Beatles song, Can't Buy Me Love, and a NY Times article by Oliver Sacks reviewing his own life after being diagnosed with terminal cancer.  Students are asked to write reflective essays about their definition of love and how this is demonstrated in observable action. In the unit, What Do You Truly Own, students read The Dash – a poem about the space between life and death – and give thought to the aspects of a person's life that are later spoken of in a eulogy, the ultimate and final definition of how a person has lived his or her life. The unit also presents the concept of ethical wills, and challenges students to write their own ethical will, defining the morals and values they choose to "bequeath to the world."
In the unit entitled Chesed – Kindness on the Road, students read articles and watch a series of media clips about individuals whose small acts of kindness have spiraled into life-changing projects on a larger scale. One such video is a CBS evening news report about a 9-yearold boy, Miles, whose father was killed in Iraq just five weeks after his birth. When Miles finds $20 in the parking lot of a restaurant he decides to "pay it forward" to a soldier having lunch with his family. Miles' act of generosity has since inspired more than $250,000 in donations for children who have lost a parent to war.  During the Chesed unit, students are challenged to engage in random acts of kindness on a smaller scale, and to spread kindness on a larger scale by creating their own Chesed organization. Envisioning their own organization, the students identify the population served and financial resources, write a mission statement, and create a metric to measure success.
The culmination of Middot Through Mitzvot – the Final Project – tasks students with creating their own Middot Through Mitzvot unit, with the goal of internalizing the lessons of the course and providing a practical hands-on approach for future character growth.  As with all the other units, students are required to identify original Judaic and media sources and to create experiential exercises and reflective questions.  Some examples of the amazing units students have created are courage, bullying, love, leadership, and confidence.
Examples of media (videos, articles, podcasts), experiential exercises, and reflective essays for each unit, as well as a description of the Final Project, can be accessed by clicking on this link. https://sites.google.com/view/middotthroughmedia
Entrant Bio(s)
Rabbi Dr. Drelich received his undergraduate degree (B.A., cum laud) from Touro University, and a master's degree (M.A). in education from Adelphi University. While earning his graduate degree from Adelphi, Rabbi Dr. Drelich also received rabbinic ordination from the Raphael Samson Hirsch Seminary in New York, and then later earned a doctorate in education (Ed.D) from the Azrieli School of Jewish Education and Administration of Yeshiva University. Rabbi Dr. Drelich's doctoral research focused on an adolescent's relationship to prayer, and identified the most effective educational approaches for bringing meaning and relevance into the adolescent prayer experience during high school. During his 30 years of work in the field, Rabbi Dr. Drelich, who has been lauded as a truly gifted educator has served as both the Associate Principal of the Middle School at SAR Academy and the Dean of Students, and the Middle School Principal of Moriah School of Englewood, New Jersey. He presently teaches Judaic studies for students in grades 9-12 enrolled at SAR High School, where he also leads an innovative, experiential minyan for students who are seeking more connection to davening than traditional minyanim offer. Throughout all of his years of teaching, Rabbi Dr. Drelich has been lauded as an outstanding educator, someone with boundless energy, optimism, and love for his students, many of whom remain in contact with him decades after graduation. Rabbi Dr. Drelich is also a kidney donor, an avid roller-skater, a proud father and grandfather, a man known throughout the community for his generosity and kindness, and a true mensch.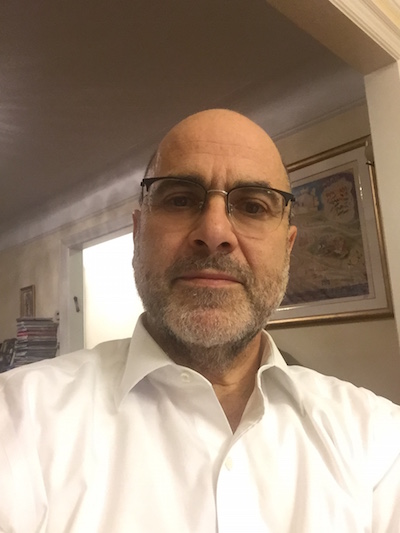 This entry has been tagged with the following terms:
benefit of the doubt
,
character development
,
Character Traits
,
charity
,
Chesed
,
courage
,
critical thinking
,
engaging the world
,
ethical wills
,
Ethics
,
experiential learning
,
forgiveness
,
gratitude
,
happiness
,
impacting community
,
Kindness
,
Kohelet Prize 2018-19
,
life challenges
,
love
,
meaningful death
,
meaningful life
,
mentch
,
Middot
,
morality
,
mussar
,
no limitations
,
pay it forward
,
perseverance
,
priorities
,
purpose
,
racism
,
relationships
,
simcha
,
social consciousness
,
suffering
,
time
,
tshuva
,