Hillel Academy's goal is for students to "learn how to learn".  We don't give instructions in Makerlab, we give tools and guidance, and challenge the students to find answers and solutions on their own. It is amazing to watch the next generation of innovators get their first taste of inventing.
Entry Narrative
Hillel Academy is at the forefront of technology in education with its 1:1 laptop computing starting in 4th grade and technology infusion into all aspects and grade levels of the curriculum.
The culmination of our integrated technology takes place Hillel Academy's award winning Makerlab. The Makerlab is based on the teaching models of Edtech leaders like Gary Stager and Sir Ken Robinson. It is roughly modeled on google's 20% time for engineers where they encouraged their engineers to take 20% of their work week to imagine develop and create projects that they were personally interested in.
Hillel Academy's MakerLab was awarded the 2017 JCCs & Federation Community Leadership Award in technology; the Steve Marx Innovation Award.
In Makerlab we give students tools, guidance, and encouragement to experiment and create whatever they can imagine. The lab is outfitted with tools for soldering, arduino circuitry, 3d printing, robotics, programming, aerial photography , raspberry pi's, google cardboard and a vast array of other tools for students.
Our students are encouraged to propose projects and then work their way through the creative process until completion. They don't always succeed, but first attempts and multiple iterations are an important part of the design process. Students learn invaluable lessons about perseverance and resiliency.
Some of the innovative projects include:
Construction of an altoids tin raspberry pi computer,
LED locker light system,
Electronic musical instrument based on a makey-makey board and SCRATCH programming,
3d modeling in preparation for a prototype of an art project,
Remote control vehicle,
Autonomous vehicle prototypes,
Modeling immersive virtual environments,
Metal claw with onboard arduino controller (picture)
Homemade chess set including board on the 3D printer,
Wrote, filmed, and edited a short film,
Construction of ev3 robotics systems,
Create a program which has a team robot travel 2 meters forward, turn 90 degrees, and  then travel 1 meter forward to park in a "garage",
Create a program which utilizes the color sensor to identify 4 different colors,
Create a program which uses color sensing to navigate through a maze (picture)
The Hillel Academy MakerLab is six years old.  We have been and are the leader in technology education in the Tampa Bay area.  In order to remain as the leader, we must continue to upgrade and dream.  The school's robotics program has been very successful and we would like to offer an expanded and age appropriate version for younger grades. We also see tremendous potential in the emerging field of Virtual reality. We would like to create a virtual reality lab that will help us prepare for the integration of this new technology in the classroom.
More MakerLab Pictures: https://drive.google.com/drive/folders/1ewXl_jLKWebGnt4YEi9IiKZh05zZmDDD?usp=sharing.
A MakerLab video link: https://vimeo.com/76526558
Entrant Bio(s)
Michael Gamson began his post college professional career as a social worker at Florida's busiest domestic violence shelter. Although his degree is in special education, he quickly adapted his skill set to provide services to some of the most vulnerable young people in the county. He stayed with the shelter organization for over 7 years and helped found the children's program which is still active today.
As he and his children's services team developed innovative therapy techniques for child witnesses to domestic violence, Michael continued to explore ways to enhance therapies and education through the use of technology.
For the past 17 years Michael has served as the IT Director at the Hillel Academy. His philosophy is to discontinue the old educational technology designs where computers exist in the vacuum of a computer lab in favor of total classroom integration of technology. His design goal is for technology to be as ubiquitous and unobtrusive as a common pencil in every classroom.
Michael specializes in optimizing schools to leverage the use of web 2.0 resources. By utilizing open source, crowdsourcing, and cloud based services, Michael helps schools maintain maximum return regardless of their technology budget.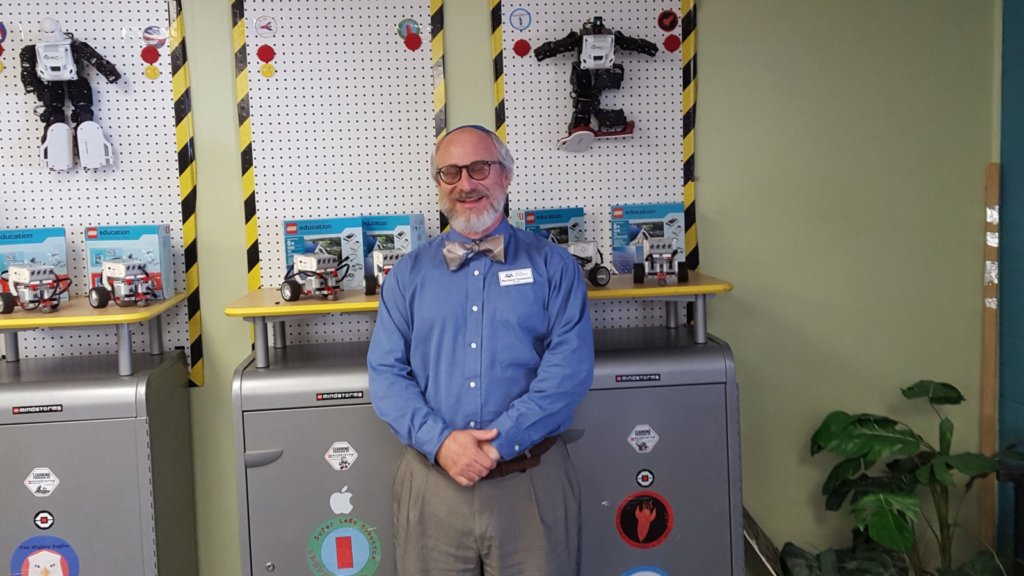 This entry has been tagged with the following terms: