This curriculum focuses on developing the new language needed for Gemara along with a profound understanding of the text. Through detailed, animated Powerpoints, "Guided Notes", and text-based worksheets, numerous learning styles are engaged. Students are immersed in language learning techniques and Gemara becomes enjoyable.
Entry Narrative
Language-based Immersive Gemara Curriculum
When introducing Gemara to today's students one encounters a host of issues. There is the enormity of learning a brand new language coupled with complex analytical thinking. Thrown into this mix is the requirement for vast amounts of background information and historical context. Teaching beginner Gemara can seem insurmountable. There is the actual reading of Gemara requiring series language processing skills. Students need to focus on pronunciation, vocabulary, grammar, translation, fluency and comprehension. Looking at a page of Gemara is daunting. The typical middle school student feels overwhelmed, threatened, and inadequate. Many give it a try and find it un-relatable. Often, students just give up and resign themselves to 'Gemara is just not for me'.
The key to getting students to love learning Gemara (and most other Judaic subjects) is by teaching them how to be comfortable with the language and how to use the text.  Hands-down the most basic skill-set required to learn on-one's-own is the ability to read, translate, and ultimately utilize information to comprehend. Although students learn differently, one constant remains the same; they need to connect to the language to enjoy it. They must master the text to love it.
"As long as students can't read and "decode" on their own, the people of the book will remain the people of a sealed book (Rabbi Dr. Mordechai Yaffe, Mesivta Ateres Yaakov)."  . If a student cannot read, they are hamstrung in all other academic areas and are totally dependent on having the material "fed" to them. Independent reading is skills are the key enabler of learning for academic proficiency across all subject areas.
To help students develop both proficiency and excitement students need to feel Gemara is attainable, fun, and relatable. They need to have access to source material in language that they understand. They need to be able to develop skills without feeling overwhelmed or discouraged.
Meeting these challenges required something fresh. Teachers required a new way of presenting our 2000-year-old heritage. That's where the "Language-based Immersive Gemara Curriculum" steps in. The curriculum employs a three-pronged approach to learning Gemara and developing language skills. First was a new medium to present the Gemara. Using Powerpoint, the Gemara is kept in its original form yet is presented in manageable pieces. Each and every step is broken down. Animated pictures and diagrams are blended into the text. By presenting the Gemara this way, teachers are no longer stationed in front of their respective Gemara's. They are free to move about the classroom focused on their students while at the same time staying true to the original text. Teachers can use the traditional choral methodology but now they are free to be standing at the side of their students. The Powerpoints are fluid, easily manipulated and editable. Students have an easier time staying focused and engaged.
The second aspect of the curriculum is to couple the Powerpoints with "Guided Notes". The guided-notes are written in a similar fashion to a vocabulary workbook. They include a detailed explanation and break-down of how the Gemara was explained in class. Students now have a "textbook" written on their own level so that they can reference what they have learned in class. Students are empowered to learn and review independently. Parents have an authentic source and means to accurately review what their child has learned. Included in the guided-notes are the same diagrams and pictures that were in the Powerpoints which provides consistency, familiarity and greatly aids retention.
The final part of the curriculum is the "traditional" worksheets. However, unlike many other worksheets, these worksheets focus heavily active utilization and understanding of the text. Students are constantly required to look into the text to source their answers. In addition, students are once again presented with many of the same diagrams and pictures that they've become accustomed to in the Powerpoints and guided notes.
The Language-based Immersive Gemara Curriculum has been in active use for the past five years. It has been used successfully by Yeshiva and day schools students within classes that contain students of massive skill disparities. It is easily replicable, scalable, and editable. It has been adapted in many ways and on many different Gemaras. It is relatively low-tech, making it both affordable and readily acceptable in more traditional settings (it only requires a laptop and projector). Since its inception, it has been distributed dozens and dozens of times with great success. It is the sincere hope of its creator that this project becomes a catalyst for further creativity and integration in teaching Gemara.
Entrant Bio(s)
Rabbi Yossi Wieder began teaching while still in High School, volunteering to teach and mentor local kids in the community. That blossomed into camp and Shabbos learning groups. While in Kollel in Great Neck, NY, he spent over 5 years working extensively with children who were frustrated and overwhelmed with Gemara. He soon took a position as 'Masheiv' in MAY (Mesivta Ateres Yaakov) in Cedarhurst NY along with a position as a 4th grade co-Rebbi in HALB (Hebrew Academy of Long Beach). From there he taught 5th and 6th grade in Yeshiva Darchei Noam in Suffern NY. Looking to ease his daily commute, he has been teaching 6th grade in Darchei Torah (Far Rockaway, NY) for the past 3 years. On a visit to the Yeshiva in 2017 US Secretary of Education Betsy Devos came to observe R' Wieder teaching Gemara.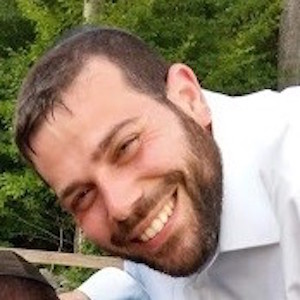 This entry has been tagged with the following terms: