SW's aim is for students to cultivate their identity as global citizens who recognize and respect cultural similarities and differences among kol yoshvei tevel (all who dwell on Earth). Our third-grade study of the Lenape tribe showcases that effort through an integrated curriculum incorporating hands-on, project-based learning and exploration.
Entry Narrative
This is a link to our entry which covers the comprehensive narrative, teacher biographies and reflections, and a blog-style page that chronicles the project. The posts are updates that were sent to parents throughout the school year, complete with student comments, photos, media galleries, and Facebook Live broadcasts of our work.
https://www.schechterwestchester.org/page.cfm?p=4683
Entrant Bio(s)
Ms. Alyssa Gioio joined our third-grade team as a general education teacher for the start of 2014-2015. She arrives having completed work at the St. Augustine School as a reading teacher. She earned a bachelor of science degree in education and primary education from the University of Scranton and a master of science degree in childhood literacy education from Hunter College in New York. Ms. Gioio holds certification in early childhood education and childhood education.
Ms. Elise Goldman is the Lower School director of teaching and learning. Before coming to Schechter Westchester she was the Lower School director at the Berkeley Carroll School in Brooklyn and, prior to that, the assistant principal at Ethical Culture School in Manhattan. Before becoming an administrator, she was a staff developer for Project New Beginnings, a partnership between Bank Street College of Education and the Newark Public Schools. She also worked as a staff developer with the Teachers College Reading and Writing Project in New York City and suburban schools, and was a classroom teacher for the first ten years of her career in education. Ms. Goldman received her master's degree in education from Bank Street College of Education, and took administrative courses at both Teachers College and Bank Street. Her undergraduate degree is from Oberlin College, which fostered her belief in the importance of making the world a better place. Accordingly, she tries to infuse this belief in her approach to curriculum development, seeking opportunities for students to learn that they can have agency in the world. She values opportunities to work with students in their classrooms in all curriculum areas, including lunch and recess. She lives on City Island with her husband, where she enjoys gardening and cooking.
Ms. Sara Herbrand joined our third-grade team as a general education teacher for the 2016-2017 school year. She arrives having completed two years in the Briarcliff School District as a teaching assistant in both third and fifth grades. She has a BS in childhood education, with a minor in mathematics from State University of New York at Oswego, and recently completed her MS in educational technology specialist from Pace University. Miss Herbrand holds a childhood education certification, as well as an educational technology specialist certification.
Ms. Denise McGinnity has taught at Schechter Westchester since 1998. She has taught both first grade and third grade as a General Studies Teacher. She has served as Team Leader in both grades and is currently the New Teacher Mentor. Ms. McGinnity holds a BS in Psychology and a MS in Literacy from Manhattanville College. Ms. McGinnity believes education is a partnership and enjoys building relationships with Schechter families. She fosters inquiry based learning and facilitates authentic opportunities for discovery.
Dr. Glenn Simonelli is a former assistant professor of education at SUNY Potsdam. He has served as an educational consultant and scriptwriter for the NASA Astrobiology Institute and as a member of the NASA Earth Science Education Roadmap Community tasked with developing priorities for Earth science educational outreach. Before coming to Schechter Westchester in 2016, he taught fourth- and fifth-grade science at the Dalton School in Manhattan and grades four through six at Lakeview Elementary School in Bloomington, Indiana. Dr. Simonelli has a BS in telecommunications, an MS in elementary education, an MS in geology, and an EdD (doctor of education) in curriculum and instruction. In his spare time he likes to hike and compose music. He is married with three adult children.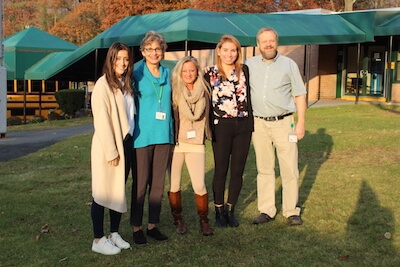 This entry has been tagged with the following terms: