Through our new multi-age format, the Schechter faculty differentiates and optimizes student learning. This progressive model reaches diverse learners within a single classroom environment and is transforming student engagement, individualized instruction, social outlets, improved self-esteem, and richly integrated curriculum.
Entry Narrative
Learning Environment
Before you walk into the Rimonim class at the Solomon Schechter of Greater Hartford, you will see two bulletin boards: one might have different ecosystems and another might have a student writing in Hebrew about the fall. If you take a moment to linger you might see that each child created an animal or a plant that belongs in different ecosystems, and you will see a range of thinking, interests, and ability to work with paper. On the Hebrew bulletin board, you will see writing that ranges from one or two words to a paragraph with several sentences, each accompanied by a drawing.  These boards are examples of diverse student development that is honored and encouraged in our new second and third grade multi-age classroom.
Take a walk inside at 9:00 am and you will see about 24 students in the room. You will also notice two lead teachers (one for Hebrew and Judaic Studies and one for secular subjects), an assistant teacher, and two ABA therapists to support students on the Autism spectrum. The wall has been opened to create a large learning space; there are no student desks, nor teacher desks. You will see a reading corner with rugs and pillows, a math manipulative corner, a quiet space, a wall with noise-canceling headphones, bookshelves with the students' siddurim, and others with Israeli kids' books, a drama corner with Hebrew signs, book bins, writing journals, iPads, and an easel with a mini-lesson ready. One teacher might be sitting with four students in their guided reading group, other students might be reading quietly and independently around the room, a few children might be creating a thought piece for their digital portfolio, and yet another group might be having a mini-lesson in Hebrew. The assistant teacher might be sitting with a few students to answer their questions.
This year, Solomon Schechter has adopted a multi-age model that provides benefits to student learning and self-esteem among a diverse student body. These benefits have been widely observed in academia and were most recently reported in this article in The Atlantic and through Ravsak . Other sources note the benefits of both differentiated classrooms and flexible ability groupings.
Part of implementing this vision required re-imagining the learning environment. Over the summer, walls came down to create larger classrooms; the faculty teams worked in their enlarged rooms to create diverse learning spaces (reading nooks, manipulative areas, writing centers, art centers, and quiet spaces). Our school donated more than 70 of our former desks to a local school, and instead filled our spaces with tables and flexible seating. The teachers, wanting flexibility and more direct access to the students, asked for their large teacher desks to be removed from the classroom, explaining that the space belonged to the learners first. It was a clear and visual transformation of our learning spaces and demonstrates our beliefs about teaching and learning.
In the short time since we began our multi-age approach, we have noted tremendous benefits including:
Instruction covers a wide range of math abilities, in one class spanning from second grade level through seventh.
By working in small groups during reading instruction, the whole range of students, from those who need support to those who are already strong readers, are challenged at their own levels within the classroom setting.
Three students, each working with full-time paras, are fully integrated socially.
Hebrew language learning in each classroom varies with ability and previous exposure, enabling students to learn and interact together without the stigma of being pulled out of the classroom for individual instruction. You can see video examples representing a wide range of conversational abilities in Gesher and Rimonim  and photos demonstrating this range in students' written work within one class from novice to more intermediate.  This is noticeable in all areas of the curriculum, as depicted in these displays of written work in Parparim, and in the artistic expression in the Rimonim classroom.
By combining grades in our small school, students have benefited from expanded social outlets.
Partner reading enables students on different levels to assist each other using different skills and strategies. In older children, it also encourages students to talk about their books in depth and ask questions of each other.
The physical learning space has been altered to complement our new learning model, providing a variety of spaces for students to read, explore, play, create, and move. The benefits of a flexible physical space have been noted here and you can see evidence of these types of spaces in Schechter's classrooms here.
Improved self-esteem and self-confidence! With small group instruction, students learn within a cohort of peers.  In just a short amount of time, realizing that they are not alone, students who were feeling "less" are already exhibiting a greater sense of self-confidence and self-esteem and progressing at a solid pace.
Instruction
Our holistic instructional approach is reflected in curricular changes: teaching teams have created a two-year cycle for all subject areas. Judaics and Hebrew are fully integrated throughout the day; content areas are divided into skill-based (Language Arts, Math, Hebrew) and cultural (Israel education, Social Studies, Science, Haggim) subjects. In both Tefillah and Chumash, students develop their skills at their own levels, and they all participate together in developing their critical thinking skills while sharing insights.
During skill-based time, students work in small flexible ability groupings that constantly reflect their learning needs. Teachers' ongoing assessment assures supportive instruction.  Cultural groups, which include social studies, science and Judaics reflect the social needs in the classrooms, giving teachers the opportunity to maintain a healthy community while richly integrating Jewish life and learning into every unit of study.  Teachers support individual student growth academically, socially, emotionally, and Jewishly in the way that best suits their ability and learning style, assuring student success. With ongoing assessment, teachers gain a keen understanding of their students' individual abilities and learning styles and are able to support student growth academically, socially, emotionally and Jewishly.
Through this instructional model, the full-time Hebrew/Judaics and General Studies teachers in each of the classrooms also have aides and paraprofessionals to assist with the academic and behavioral needs of some of the students, enabling students of all abilities to remain in the classroom throughout the day.
Our favorite instructional tools in this new model are those that allow each student to progress at his/her best pace and level; these can be hi-tech or low-tech methods:
Reader's and Writer's Workshops (see link below)
Seesaw – Digital portfolio used across content areas for students to document their thinking. See examples of the ways in which our Rimonim students of different ages and abilities interact on Seesaw with teachers through the eyes of Alexandra, Iliana, Ma'ayan, and Max.  Teachers also use Seesaw to enable students to provide feedback and conversations about books and field trips.
Dreambox – Adaptive math program that shares data with teacher.
Newsela – News text differentiated for various reading comprehension levels
Padlet – Collaboration tool
Google Classroom – For student to student and student to teacher collaboration
Chevrutah (with a study partner) – student driven in-depth text study
Assessment
Differentiation is built into all areas of the curriculum through student led inquiry instruction, activities, and assessment. When Schechter lower school teachers assess their students, they are not only looking for a right answer; they look for a nuanced understanding of where each student is in their path of learning. At Schechter, the faculty's primary interest is in developing students' thinking and their ability to explain their thinking across all subjects.
At the end of each unit, the Chumash teachers use performance assessments, which allow students to approach and explore the learned unit as individuals, applying their knowledge and understanding in a new setting.  Each performance assessment demonstrates the individual student's thinking and development, as seen in the wide range of responses from grade three and grade five.
Additionally, the Chumash flexible groupings allow for skill-based groupings for text analysis as well as mixed groupings, which provide for richer conversations. The faculty has found that often, students who may struggle with text analysis think especially deeply;  combining the students of mixed-abilities provides richer conversation among the students.
Technology is another important tool for differentiation for instruction, practice, feedback and assessment. As noted in the examples listed above, teachers may use technology to differentiate assignments and practice for the students by creating digital portfolios, which are automatically captured for the teacher. At another time the teacher can review the video and data captured to better understand the students' learning and provide individualized instruction to support the next steps.
Process of Adopting this Philosophy
In preparation for this educational shift, Schechter faculty engaged in significant professional development which included researching about multi-age education, visiting schools with a multi-age model, working with an educational consultant, and preparing their physical space and curriculum as teams.
Before making the shift toward the multi-age classroom, the faculty worked for over two years with a literacy consultant who trained and coached the faculty in the Reader's and Writer's' Workshop model. This model is inherently and deeply differentiated. Through regular assessment, each student's reading level is thoroughly understood (fluency, accuracy, comprehension and the ability to write and speak about their deep thinking about a text) and specific reading skills are further developed. After a whole group mini-lesson, the students read their individual books targeted to their particular reading level. Within a classroom there is a huge range of readers who may all be working on a particular genre or skill in a book they can best access (access for us means the ability to think and speak about the text).
Faculty visited a multi-age Jewish day school and a progressive multi-age school nearby.  During this time, they observed and spoke with the faculty in each school. Additionally they read academic articles as well as Sandra Stone's Book, Creating the Multiage Classroom.
The faculty spent a week with Sandra Stone in our school preparing for the launch this fall. They continued this work with a half-day workshop in November.
In creating the schedule for the school this year, we built joint planning periods into the daily schedule for each team to allow for collaboration as well as time to discuss individual students and class dynamics.
Replicability
Our multi-age instructional model reflects values held by most day schools, including community, inclusion, inquiry, and investigation. Jewish day schools can embrace this model as a way to give students a whole sense of themselves.
As stated above, the multi-age format profoundly impacts the learning, growth and social development of our students.  In addition, it can be a powerful means to create a unique niche for smaller day schools in their communities and to help alleviate a strained budget.
Change can be scary, and a change of this magnitude is no exception. Having been through the process of research, development, gaining parent buy-in for the process, professional development for faculty, and adapting our physical spaces, we can serve as a resource for others. Our replicable model can help revolutionize other day schools as well; we are open to sharing our process and learning with other schools and would be happy to offer consulting and tours of our school in order to benefit the broader day school world.
Entrant Bio(s)
Merissa Spector, General Studies teacher for Gesher (4-5), has lived in Connecticut all her life and has dreamed of being a teacher since grade 3. Merissa enjoys spending time outdoors, taking pictures, baking, and playing with her 1 year old son. Merissa has been teaching at Solomon Schechter for four years and loves helping students learn and grow.
Limor Shefer, Hebrew teacher for Gesher (4-5), moved to Connecticut from Israel 23 years ago. She enjoys sharing her love of her country and teaching Torah to her students in order to help them develop their Hebrew skills and Jewish identity. A former member of the Israeli Ice Skating team, Limor has been known to encourage her students on the ice during school outings!
Kate Poltorak takes pride in cultivating a community of lifelong learners in her classroom. Kate is an avid reader who loves to cook, crochet and take adventures in search of new and delicious foods around the Northeast. She has been teaching General Studies at Schechter for two years, where much of her work has been developing second and third grade differentiated curriculum for Rimonim.
Ziva Kovner teaches Hebrew as a second language through authentic Israeli music, literature, and Jewish art to her students in Rimonim (2-3). Originally from Israel, Ziva has been teaching at Solomon Schechter for 16 years. Ziva loves to hike and paint watercolor landscapes, and she enjoys sharing her love of gentle yoga and meditation with her students.
​Susan Kurtis has dual certification in special education and elementary education K-8, and has been an educator for 30 years. A member of the Rimonim (2-3) team, Susan lived in Israel for three years and enjoys working in both Judaic and General studies. Susan is also the proud parent of 3 Schechter graduates.
For Gavi Lehrer, Schechter is both her alma mater and the place where she has taught Kindergarten for six years. She approaches teaching Parparim (K-1) with a simple philosophy: by instilling in her students a love of learning by the early age of five, she will have set them up for a lifetime of adventure and growth through learning.
After graduating college with a degree in English Literature, Anita Cohen began teaching ESL on the high school level in Israel. She has worked for many years at Schechter in the Lower School, and is currently a member of the Parparim team (K-1).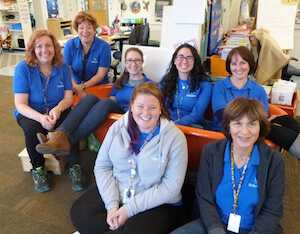 This entry has been tagged with the following terms: