Students studied the push and pull factors of immigration. They examined how immigration trends affected immigration laws and policies and analyzed the human experience of immigrants. In this study, students interviewed immigrants, read and watched documentaries, created immigrant character profiles and write historical journals.
Entry Narrative
Immigration Perspectives Project
Background and School Bio
Under what conditions does entrepreneurship flourish? Peri Solomon and Sarah Schwartz are  5th grade students who decided to take a project further when it was over. They learned to use a sewing machine and to sew doll clothes as part of an Immigration Perspectives Project and were inspired to create their own "doll clothing company." They are now collaborating to design patterns for doll clothes, sew samples, create a logo and begin the manufacturing process. Chany Weinberger, a 9th grade student, after a project that involved paper quilling, decided to take it to the next level and introduce this art form to the community. She created patterns, designed paper quilling kits and initiated contact with Chinese manufacturers. She single-handedly approached stores in the community to sell her kits. Another example of entrepreneurship that our projects generated was student-created games. As part of a problem solving unit, students in seventh grade collaborated to design original games. The games were so professional that several local toy stores expressed interest in them. As a result, three of their games are currently being manufactured in China.
Tiferes Bnos is a small, inviting, orthodox school nestled on the outskirts of Williamsburg, NY. Our children, mostly ESL students from struggling backgrounds will most likely not attend college. Therefore, we are hyper-focused on preparing our students for success in the real world by making learning relevant, and by explicitly teaching social and emotional skills. Project-Based Learning allows us to embed collaboration, risk-taking, exposure to failure, and leadership abilities, while the children explore their values and express themselves through the arts. We aim to guide each individual child to recognize her inner resources, connect with her passions, and capitalize on her gifts.
http://hechingerreport.org/constant-teacher-training-keeps-poor-jewish-school-performing/
As a group, we collaborate to guide and implement projects, and ensure that our various learning objectives are met.
Following are the objectives we met through our fifth grade Immigration Perspectives Project that inspired our students to create their "doll clothing company."
Content and Skills Goals
We had content goals in American history, writing, and literature. We chose to create a project based on the theme of immigration because it coincided with the time period we were studying (mid 1800s to World War I.) We also felt it would be very meaningful to the students as they are all descendants from immigrants. Additionally, Jews have a long history of migration, and America in particular, has created the conditions that provide immigrants with tremendous  opportunity. We wanted students to be able to take on the mindset of an immigrant by asking questions, researching, and creating relevant products. We also wanted them to see others' perspectives and explore American reaction to immigration. We intended to build context as well as develop abilities in our students to analyze comparisons between historical immigration and current immigration experiences.
When planning the unit, we wanted our students to develop the following skills:
Perspective taking and awareness of world events in order to build empathy

Collaboration and communication skills

Analysis and synthesis

Creativity and the arts

Close reading

Time Management, planning and organizational skills

Problem solving skills

Reflection and receptiveness to feedback
An important factor in our planning was to match the project with products that are relevant and appealing to children at their level of interest.
Project components
Products
To generate excitement for the project, the girls had to interview immigrants in their lives.
The girls created:
-a fictitious, but factually accurate character profile of a person coming from their assigned country of origin. To symbolize their character, they built dolls, dressed in period clothes using materials like chicken wire, brown paper bags, Mod Podge, and scraps of material. Sewing machines were placed within the classroom so that girls could experiment with sewing on their own.
-a travel chest for their character that was decorated with symbols relating to their character on the outside. The chest was filled with mementos of the character's old life or new home. Girls created mementos such as photographs, a mini patchwork quilt, the first coin they earned in America, etc. Although the criteria were five mementos, most children created many more.
-a journal of immigrant experiences, written from first person point of view that detailed why each immigrant left, the hardships of the journey, challenges upon arrival, and reaction of Americans.      
Research phase
In the research phase, students were immersed in a range of literary sources. Together, using the question formulation technique, the students asked questions about immigration such as: Where did they come from? Why did they leave? What travel conditions did immigrants face? What was life like for the immigrants once they arrived in America? What kinds of communities did they live in? What were some challenges and benefits of their new home?  How were they treated by others? The girls also focused on the big picture in context of the Industrial Revolution, and journalism—the effects of muckraking on immigrant communities.
They looked at graphs of immigration rates to understand immigration waves and trends.  The students learned the information while working in a variety of cooperative learning structures. Explicit direction was given to them in order to enhance their skills of note-taking, inferring, and predicting. To gather even more data and to make the learning more authentic, students went on a field trip to the Tenement Museum and Ellis Island with the objective of finding information relevant to their character profiles.
Group work / Collaboration
Although every child created her own character profile, groups had to collaborate in many ways. Their characters' stories had to intersect in a way that showed relationship between the dolls. All the research happened in group work, as they helped each other through the text.  Old collaborative skills were reinforced while new skills were built. They were taught to plan for reading outcomes before diving into text. When they got stuck, children were taught to troubleshoot together with friends before approaching the teacher. Additionally, the girls were forced to work with limited resources. Therefore, they had to compromise and juggle their finite resources. The teacher used this as a springboard for a discussion about recycling, our earth environment and the finite resources we have on our planet.
Time Management and Organizational Skills
Because fifth graders are capable of manipulating time, the students received a calendar of due dates and worked together to plan backwards and include all the tasks they needed to accomplish. They were also encouraged to reflect by filling out a daily log of what they accomplished each day and what they hoped to accomplish the next day.
Close Reading Skills
Since our students are ESL learners, we teach them close reading strategies to enable comprehension of text. During our project, students read articles relevant to current immigration and current political opinions.  They began to see how, despite the differences, in some ways immigration today parallels immigration of the past. Children created Venn Diagrams to compare historical and current immigration.
Problem Solving as a Unit of In-Depth, Explicit Instruction
In every grade, each year, a unit that focuses on building skills for social and emotional growth is developed. The girls receive explicit instruction through mini lessons, complete tasks and create artwork to symbolize what they learn.
For the problem solving project, the students were taught how to identify a problem, the size of the problem, and match their reaction to the problem. They learned to identify patterns, monitor their emotions and reactions, and practiced taking on all perspectives of people involved. They were also taught a range of strategies to deal with problems, such as "fix it, flex it or go with the flow."
As in every project, the students bumped into challenges as plans fell through and disagreements cropped up. The fifth graders were expected to thoughtfully apply these skills during Immigration Perspectives Project.
Reflection
Students continuously reflected on their work, both during and after the process, critiqued and supported each other, and created improvement plans.
Throughout their years at TB, the students learn to take healthy risks, expose themselves to failure, and follow their passions to the extent that they become skilled enough to take their interests to new levels.  
https://i.imgur.com/qnbEDrn.jpg
Entrant Bio(s)
All the members of our team actively work to grow professionally at Tiferes Bnos, a school with a unique professional development model, known for its distributed leadership and high-impact teamwork. Our team works collaboratively to design and tune projects, implement them in classrooms, and evaluate student outcomes.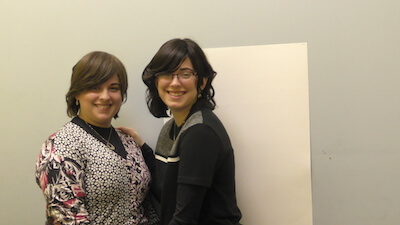 This entry has been tagged with the following terms: