How do we inform voters about local elections? During the 2018 Midterm Elections, students partnered with a local campaign to learn about government structures, the campaign process, and how their voices really do matter. At the end of #getlocal, students used their voices, as well as their unique perspectives as high schoolers, to write and deliver campaign recommendations to their local candidates.
Entry Narrative
As a former political organizer, I saw firsthand the low level of participation in local elections, especially during a midterm year.  Together, Kathryn and I saw the perfect Project Based Learning (PBL) opportunity to achieve our desired learning objectives and increase our students' local government engagement. Three government classes (AP, honors, standard) participated in the project, and each student chose a different local campaign. Most students raved about the exposure to the various candidacies and the eye-opening nature of seeing how their chosen campaign focused on improving the disposition of a local government office.
Entry Event: We started the event with a fun game using dominoes.  Essentially, in the first round, all students had the opportunity to make a rule about the dominoes, and all students then voted whether to enact that rule or not.  This emulated all

eligible

voters actually voting.  The second round allowed all students to make rules but only half of the students voted about enacting that rule. This emulated all

registered

voters voting. In the third round, only 40% of the 50% were allowed to vote, emulating all registered voters who actually vote in elections.  The students were shocked that such a small section of our population is in control of deciding the future for the masses. They were instantly hooked and couldn't wait to see where this project was headed.

Flowcharts: Next, we spent a week in class working with the students to create government flowcharts, including federal, state, county, and city.  This help students learn who did what and who reported to whom.

Political Quizzes: The students took multiple quizzes to find out where they were on the political spectrum.  The quizzes did not just tell students if they were republicans or democrats, but also told students if they were moderate, libertarian, or if their views aligned with the green party.

Selecting a Candidate: Students spent a class period researching their own congressional districts based on their addresses, then determining which politicians were running in their districts.  Students then chose their top three candidates, and we were able to assign almost everyone their first choice. We only let students choose candidates running at the local level.

Creating a Script: Teachers provided students with a script and tips to help them introduce themselves to their campaigns for the first time.

Meeting with Campaigns: Students were required to meet with their candidate, or a person who worked for the candidate, like the campaign manager. Students had to conduct an interview, asking prearranged questions created from a brainstorming session in class.  Those questions focused on candidates' background as well as candidates' political strategy.

Polling: Students brainstormed questions to utilize in a survey and submitted them to the teacher.  This step of the project was done independently of their campaigns. For the AP Government class, the teacher compiled the 10 best questions into one survey.  For the other class, each student used their own questions. Students had to conduct 10-30 surveys (number based on AP, honors, or standard class). We required that most people who were surveyed were people our students did not know. We recommended that students go somewhere public to ask people these questions: grocery store, coffee shop, playground, place of worship, etc.   Survey answers were then consolidated to increase the sample size. Students then analyzed the data.

Volunteering:   Students had to volunteer with their campaigns.  Some students spent time canvassing or phone banking, based on their level of comfort.  Volunteer work helped students connect the dots between what their campaigns were trying to do versus what they were actually doing and how effective it was.  (Furthermore, since campaigns were devoting their time to helping students with this project, it made sense for students to give back.)

Recommendation Paper: Finally, students compiled all of the pieces of their project into a large campaign recommendation paper.  Students relied on their own personal knowledge of communication; most of them referenced plans for increasing social media outreach.  Students submitted rough drafts which were edited by teachers and peers. Students then submitted a final draft which they also sent to each of their campaigns.  

Reflection: Students and teachers submitted reflections on what we learned, how we would fix the project, and how this project impacted us.
Entrant Bio(s)
Kathryn Shetty received her education in her home state at Missouri State University with a Bachelor's of Science in History and Secondary Education. She continued her studies at the University of Cairo in Archeology and went on to receive a MasterНs degree in Global History with an emphasis on the Middle East. She has taught at both the high and middle school levels in the past and is currently teaching US History and World History. She has also led professional development classes for teachers in history and technology. She enjoys incorporating her love of travel and documentaries into her classes and also with collected artifacts and non-fiction books. Both her and her husband enjoy camping, experiencing new places, photography and being active lifelong learners.
Marcie Sherman received her Bachelor of Arts in English and Bachelor of Science in Speech Communication from Northern Arizona University. She then received her Doctorate of Jurisprudence at University of Arizona School of Law. Marcie specialized in criminal defense as a public defender in Colorado. After returning to her hometown of Las Vegas, Marcie received her first teaching job at Adelson Education Campus. Marcie teaches government and multiple law classes. One of Marcie's passions is volunteering, especially with local politics.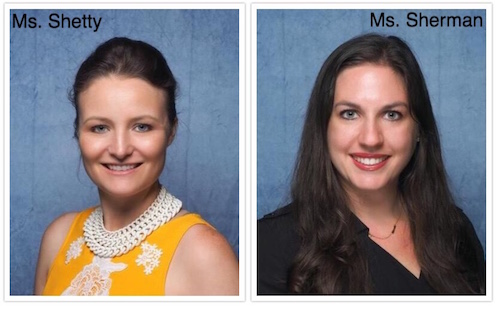 This entry has been tagged with the following terms: