This entry describes a year-long course at Maimonides, enabling Juniors to study the Fundamentals of Economics, both as a rigorously taught social science class, and as a deep consideration of the ethical and moral teachings of Judaism on the topic. The entry focuses on the many opportunities for Real World Learing for students through this course
Entry Narrative
Students have been asking us at Maimonides for years for an opportunity to have a class in economics, an discipline of scholarship and intellectual thought that many of our graduates know nothing about.  Recently, our school finally jumped into uncharted territory and began a class in the Fundamentals of Business & Economics and Jewish Business Ethics in order to fill that need.  We believe that this class is critical, and an imperative for all Jewish High Schools to consider, because of the myriad opportunities for real world learning that it represents for our students, and we believe each graduate of a Modern Orthodox High School should take a course such as this one, in order to prepared for later life.
This course enables students to engage in real-world learning, and this on three levels.  First, students apply the lessons of business and economics to their current financial activities on an almost daily basis.  Though they do so on a smaller scale, student clubs, student council events, and grade-wide fundraisers, all involve conventional economic decision making (how do you market? how do you account for variable costs? do you extend credit? Does the opportunity cost make the initiative worthwhile, etc.); and this class enables students to truly understand and have language to process the choices they have been making, but not understanding.  Second, each student in the class expects to have a full economic life at adulthood, with work and personal finance, and this course gives students expert knowledge and learning to prepare for those future real-world scenarios.  And only in a Jewish school can students learn the uniquely Jewish perspective on future real-world dilemmas like barriers to free competition, honesty and non-disparagement in a competitive business sphere, and the circumstances under which credit should be extended to a friend, family member, or peer.  Third, as students are regularly bombarded with philosophic perspectives on economic issues in the media – in discussions of trade deals, tax reform, and inequality; this course enables them to have the language to understand these real world debates, in all their complexity.
Three PDF documents (numbered "1," "2," and "3") highlight the broader impetus for this course, and its vital role in preparing our students for their futures: the moral dimension, the real-world-learning dimension, and the Jewish Literacy dimension.  (An additional PDF also highlights the reasons why schools often don't discuss real-world issues in Jewish Law, and further supports the position that understanding the Jewish approach to business is a huge gap in our schools today).
This course uses real-world learning on a daily basis, and this in two fundamentally different ways.  First, the course uses "case studies" to illustrate key concepts in economics, all derived from the real-world economic lives of the students and their families.  From the ethics of Uber, to the advertisements on facebook, to determining whether teenagers benefit from the minimum wage – each lesson is built upon real world scenarios, and enables students to process and understand the real world in deeper ways.  Our classroom is the world of business activity, not a cloistered laboratory, or an ancient piece of world literature.  Part of this entry includes the course outline (in PDF #4), which – in broad strokes – captures how specific topics in our course outline are illustrated through real world scenarios: some universal and secular and some uniquely Jewish, but all real-world relevant.
Second, students take no exams as assessments for this course, and instead demonstrate their mastery of core learning competencies for this course through a portfolio project they work on throughout the year which enables them to learn and master course content by applying it to real world scenarios.  As progressive educators, we want students to construct their own learning through practice and doing – not through memorizing for exams.  Students who have their own economic lives (part-time jobs, or school fundraising clubs), prepare their portfolio using real-world economic data and experiences.  Other students, take real-world companies that they are not directly involved in and use them instead.  A Pdf (numbered "5") illustrates the portfolio aspect, and the many real-world tasks students undertake to practice and demonstrate learning.  Many of the portfolio products enable students to consider economic questions from a practical dimension, from a moral dimension,  and from the perspective of the Jewish tradition.
[Because of the sensitivity of the economic data in some of the student work, I am uncomfortable submitting the details of many of the submissions.  The first project, lighter in tone and least real world of all the projects has produced some many thoughtful pieces, a random selection fo them accessible here which illustrates the depth of student processing, and the consideration of practical and ethical dimensions, but sadly does not illustrate the real world dimension or the uniquely Jewish dimension. https://drive.google.com/drive/folders/1ufM8dK9c8wdX-_ehIJA_df5tdl7jez3A?usp=sharing]
I must stress that this class is not designed as a home economics or personal finance class.  Our primary focus and thrust is to understand the economic and philosophic theory that govern the worlds of business, finance, and public policy.  Whenever possible we apply these general theories to real world phenomenon, but we use the real-world learning to highlight the general and make it germane.  It is taught with the rigor of any social science class, and any Judaic studies class.  [For reference, three other PdF's include class notes or handouts for three classes which capture the overlap of theory, public policy and Judaism's approach: borrowing versus investments in Jewish Law and modern finance theory, Judaisms approach to fair balance of risk/reward through gambling, and taxation in Jewish Law, although these may be hard to understand when read not in the context of the wider unit or lessons.]
Allow me to reflect for a moment on what has gone well in this class, and what are areas for growth.  This class has been met with remarkable student interest, both in the course content and in the portfolio assessments, and students often achieve moments of "insight" or of synthesizing and evaluating models for their morality and efficiency, the highest hallmarks of learning.
Yet, we still struggle as to how to find the balance between class discussions focused on ethics, versus discussions of practical scenarios.  For example, a discussion on the formulae for determining the price set by a monopolist might be preceded by a discussion of whether Jewish Ethics would countenance monopolies and price gouging in the first place.  Precisely because we wish to cover both the model of economics, but also the values behind them, we are constantly in tension as to what should be given more time and weight.  The portfolio also faces this tension, the struggle over whether student products should be independent practice of core economic activities (like preparing a balance sheet or course curves), or analysis and evaluation of arguments of the way the world of business should operate (like designing a fair taxation system, or resolving office dilemma).
Similarly, a second struggle revolves around the amount of time given to each of the various topics.  Accounting and Marketing might be most relevant in their real-world now, but Labor and Finance might be the ones most real-world relevant over a life time.  Micro and macro economics are foundational for the discipline and echo most loudly in national, real-world public policy debates, but will effect their lives less.  This course tries to touch on everything, but we always struggle with what to spend more time upon.
We also struggle what it means as contemporary Modern Orthodox Jews to work in a real-world, secular economic sphere, while also conforming to uniquely Jewish standards of ethics.  Can a Jew fudge his or her billable hours, if the business world condones the practice?  Can a Jewish Pharmaceutical company abuse their patent to gouge prices, even if Jewish law places a cap on high prices?  How can a Jew not lend money with interest in a world with assumed 2% inflation?  These are exactly the best questions for our students to engage with and endeavor to answer, although sadly, specifically because of their complexity, we often end the discussion without a clear definitive conclusion.
In summary, I would recommend a program such as this one for any Jewish student as they conclude their high school careers.  If our faith should inform their real lives and real adults in the real world, they must master what Judaism has to say about the economic lives that will involve the bulk of their attention and the majority of their waking hours over a lifetime.  And what better way to prepare, than to learn the material from a secular perspective, together with the vision and perspective their faith has on these critical real world problems.
Entrant Bio(s)
Rabbi Yaakov Jaffe, EdD serves as faculty member and Director of Tanach Studies at Maimonides Middle and Upper Schools. He received his ordination and doctorate from Yeshiva University, where he holds graduate degrees in Bible, Jewish History, and Jewish Education. Rabbi Jaffe has lectured and written widely on topics in Medieval Jewish History, Jewish Education, and Jewish Law. Rabbi Jaffe's unique approach to Tanach, Tefillah, and Hebrew poetry is informed by his B.A. in English literature from Columbia University and the historicist approach to the study of ancient texts. He also serves as the Rabbi of the Maimonides Kehillah, founded by Rabbi Jospeh B. Soloveitchik in the summer of 1963, and as the Director of the Boston Rabbinical Court.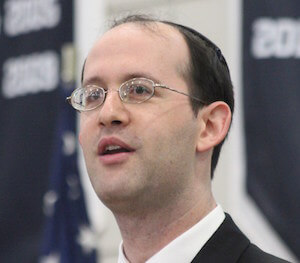 This entry has been tagged with the following terms: