We launched an initiative in our Lower School where the General Studies teachers collaborated with their Judaic Studies counterparts to help students make meaningful connections between themes that were being studied across both disciplines in the second and fourth grades and themes that emerge throughout their daily Tefilla.
Entry Narrative
As participants in the third Legacy Heritage Cohort, 2016-17, we launched an initiative in our Lower School where the General Studies teachers collaborated with their Judaic Studies counterparts to help students make meaningful connections between themes that were being studied across both disciplines in the second and fourth grades and themes that emerge throughout their daily Tefilla. It was our assertion that, by creating and fostering understandings of their curriculum, their Tefilla, and themselves, all three would benefit. By midway through the first year of our initiative, students' written work and oral discussions reflected a positive shift in thinking and a deeper understanding and internalization of the prayers and concepts studied. Teachers of second and fourth grade, both Judaic Studies and General Studies, began to look for and find more opportunities to create meaning by integrating their students' learning experiences and by planning together.
These outcomes were the result of a thorough process and plan that began before the first day of school. In the beginning of the school year, we held a professional development session with our second and fourth grade colleagues to lay the groundwork; this PowerPoint accompanied our presentation to 2nd and 4th grade faculty.
As an opening activity to begin the school year in Judaic Studies, second grade students were asked to write about what they think about during Tefilla. Their responses were showcased to the rest of the student and parent body in our Lower School Hebrew Newspaper. In General Studies, students wrote short, personal  "Letters to Hashem."  Many Judaic and General Studies lessons and activities were dedicated to finding meaning in the children's everyday lives through literature, written and oral expression, in both Hebrew and English.
Beginning in second grade, the classes focused on understanding the meaning of the prayer Modeh Ani and of the morning blessings. The students were read the Tal-Am book,  Shachar u'Virchot Hashachar.
The following topics and questions were then discussed:
What is shachar?
What do we do in the morning?
What is the first tefilla  that we say when we wake up in the morning?
What words do we recognize?
Students had the opportunity to write in both Hebrew and English what they were thankful for, and expressed gratitude towards God and towards others. We began by examining Hakarat Hatov (gratitude) in Hebrew, by learning the words and themes of the Tefillot, while relating it to their lives.Then the theme of thankfulness was adopted and explored by taking a closer look at the prayer Modeh Ani.  The lesson included a focus on  Hebrew language, grammar and understanding the prayer .
Students identified words with the Hebrew word family for "thanks." They then wrote their own Hebrew sentences using the words expressing their own meaning and understanding using the Hebrew verbs for getting up, praying and giving thanks.
Hebrew Writing: I get up, pray and give thanks!
Closer to the Thanksgiving holiday, General Studies teachers incorporated the theme of thankfulness by doing a read aloud of The Thank You Book, by Mo Willems. The students were then encouraged  to find people in their everyday lives whom they felt they should express gratitude.
Children presenting their Thank You letters to our Director of Security, Mamadou
After the children studied Modeh Ani and explored areas that they are thankful for, they continued by learning the meanings of the Birchot Hashachar (morning blessings.)  Children were then paired and identified words and common ideas that they recognized. Each pair created a Hebrew video explaining their assigned "morning blessing," and shared it with the rest of the class.
In General Studies, the children then wrote follow up responses as to how their blessing is relevant  to them in their daily lives. The General studies teachers used this opportunity to integrate the content into an English writing lesson teaching transition words while writing sentences.
Many Judaic and General Studies lessons and activities were dedicated to finding meaning in their everyday lives through literature and both written and oral expression. The culminating project for this unit was the creation of personal Birkonim(Grace after Meals booklets) by the students. The children expressed main ideas from each paragraph in their own Hebrew sentences and through the use of illustrations.  Sample of Completed Birkon
In the second semester, second graders continued to  focus on the theme of thankfulness and appreciation and then made the shift to kindness towards others.
The kindness unit was centered around the Tal-Am book Brucha Habaa Nurit  (Welcome, Nurit.) In the Judaic studies classroom, students discussed and wrote about what it is like to be a new student in a new environment. Emphasis was placed on kindness and on how our acts of kindness can impact others and their experiences. Students were also able to write about how they can help others and what it means to be a good friend in Hebrew.
The children also explored and learned about themes in their General Studies classroom, through the study of the text Those Shoes by Maribeth Boelts. The protagonist, a young boy who is less fortunate than others, recognizes the importance of helping others who are even less fortunate than himself.
At the beginning of fourth grade the students filled out a Google survey about their understanding of and relationship with Tefilla and God.  The students answered these questions on i-Pads and we gathered this summative data from our students.  In our study of Chumash, fourth graders were given the opportunity to explore their understanding of Tefilla and what it can be through guiding questions that were posed to them and through their study of Chumash, specifically, Yaakov's prayer. We framed our study of Yaakov's prayer to Hashem (Perek 32, verses 10-13) by having the children think about what Yaakov felt like when he heard that Eisav, his enraged brother who he hadn't seen in over twenty years and wanted to kill him, was approaching with 400 men.
We asked the children to write a prayer they thought Yaakov might say at this time and asked them what it might include (birthright, praise, thankfulness, request, etc.)
Most students thought that Yaakov's prayer would only include requesting of God to spare the death of Yaakov and his family. The students were surprised to learn that Yaakov's prayer included the merit of his forefathers (Avraham and Yitzchack), praise of God's greatness and kindness, as well as Yaakov's thankfulness for all that He has done for him. We used worksheets to frame the lessons on Yaakov's prayer.
The student responses and insights that emerged from that unit were incredibly thoughtful, such as:
"Maybe Yaakov gave praise and said thanks in addition to asking for help, because it is nice to do that when we want to ask for something."
"But then it doesn't seem authentic to do it just when we want something."
"So, maybe we should also think about other people when we pray and what we need."
"Maybe that's why we pray every day."
"Why at the end of the prayer does Yaakov remind God that He said He would give him many children to remind him that if Eisav kills him and his family, God's promise won't come true? Does he doubt God's promise to him? If Yaakov, our forefather can doubt God, can we?"
The children learned a song of Yaakov's prayer composed by Yonatan Razel composed by Yonatan Razel as his own personal prayer during a trying time in his life. In preparation for Thanksgiving, The Judaic Studies class activity and discussion segued into a General Studies classroom discussion and written responses about what they have to be thankful for. In the Judaic Studies classroom, the children created and delivered letters of appreciation to people in school who contribute daily to their well being.
The students were then able to evaluate their own personal connections to God and each other and created their own personal prayer and personal goals. This project involved integration with educational technology. The children wrote their own personal prayers, during technology class, modeled after the structure of Jacob's prayer:
My forefather/mother(s): ____________ did______________________.
I Praise Hashem for:
I am thankful for: ___________________________________________.
I want:

For me:
For others:
After creating their own personal prayers, the children were given prompts to help them think about personal tefilla goals for the year.
The first half of the initiative culminated in a school wide presentation at the Friday Oneg Shabbat program. Our fourth grade students presented what they learned about in Chumash and Tefilla at a school-wide oneg for Parashat Vayishlach. They shared some of their work and sang Yonatan Razel's song about Yaakov's prayer.
In the second semester, fourth graders had a better understanding of the importance of communication and having a relationship with God. They were also able to explain how their relationship with God and prayer could be used in their everyday lives as a nation and personally to overcome obstacles. Some shared their thoughts and reflections on thinking about and studying Tefilla  including how Tefilla connects to themes in Chumash, questions they have about Tefilla, and how their study of Tefilla has impacted them.
Around November, the fourth graders earned the privilege to help lead davening in the second grade classrooms and serve as role models.
The fourth graders then explored and connected these themes through their General and Judaic Studies literature.
The first "Finding Meaning" integrated literature activity was based on a General Studies unit about Native Americans and the study of the "Hebrews (Biblical figures)" in the Judaic classes.
After General Studies class discussions comparing and contrasting the cultures and value systems of the Native American to the Hebrews, the children were asked in their Judaic classrooms to incorporate what they learned in writing. In a journal entry, the children wrote about a day in the life of a Native American or "Hebrew," through the perspective of that character. To make a connection to the previous Tefilla unit, the children were then asked to write a personal prayer for the character they wrote about and to connect it to a prayer in the Shemoneh Esrei.
Toward the end of the semester, the children were asked to integrate other literature that they read in their Judaic and General Studies classrooms. They were asked to compare a Hebrew Tal-Am book about the story of Francis Bok, a modern day slave, escaping from Sudan and Anne Marie in Number of the Stars. The children wrote about a challenge that the characters overcame and what helped them overcome those obstacles. Some were asked to also include what obstacles, if any, they or a family member may have overcome and how.
At the end of the year, after the writing assignment, the fourth graders completed their final activity for the year which was a concluding survey. Answers from the concluding survey  highlighted the importance of the work that we did.
As the project unfolded, we continuously collected student work. We also documented their experiences, thoughts and opinions through writing samples, worksheets, and by using video recordings and photographs.
We kept everyone informed through regular meetings and email correspondence with our colleagues and administrators. Faculty was also updated during scheduled Faculty development sessions.
Our principal and other school administrators felt that our initiative had a great impact on school culture and student learning. Rabbi Koslowe shared his thoughts about our initiative and also shared our initiative with the Board of Directors and with parents. Feedback was given by teachers and administrators. This initiative was successfully implemented and very well received. We are currently in our second year and looking forward to refining and expanding our program based on the wonderful feedback and observations from our first year.
Entrant Bio(s)
Tali currently teaches 2nd grade Hebrew and Judaic Studies at the Ramaz Lower School in NYC. She has also taught in 1st, 3rd and 4th grades. She has been an educator at Ramaz for 20 years. She grew up in Syracuse, NY and currently lives in Scarsdale, NY. She has two children who also attend Ramaz.
Tami has been an educator for 21 years at the Ramaz Lower School in NYC. She has taught 3rd and 4th grade Judaic Studies and has been a teacher mentor. She lives in New Jersey with her husband and three children. Her three children are students at Ramaz.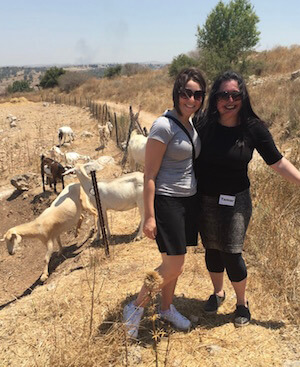 This entry has been tagged with the following terms: