You Be The Judge: What does Jewish Law say should happen to Ponyboy Curtis? An exploration and analysis of S.E. Hinton's American Classic, The Outsiders
Entry Narrative
Too often in Jewish Day Schools students are asked to silo their learning, an almost impossible task considering how multifaceted their lives are. At Yavneh, we believe in order for learning be to be effective and meaningful, it must be relevant. We put the child at the center and construct the learning to be relevant to who they are and who they are becoming. In Middle School students are often confronted with questions of personal and social identity. We explore this critical middle school issue through an integrated exploration of the American classic, The Outsiders by S.E. Hinton combined with biblical and rabbinic texts. Combining hevruta learning, based on the methodology of the Pedagogy of Partnership, literary analysis, text study and social-emotional exploration, students apply critical thinking skills in order to develop a sense of self and the extent of their moral obligation to others.
Project Outline
Framing: Before the students begin reading the novel, the unit is anchored by exploring the social-emotional themes through biblical and rabbinic texts. The students are asked; Am I my brother's keeper? (Gen. 4:9). They are introduced to the concepts of Bystander, Upstander, Victim and Perpetrator and define and analyze each of these identity constructs through hevruta study of Jewish texts.
Exploration of the Novel:
After reading the first two chapters of The Outsiders, the students apply their hevruta text skills to the novel.  With their hevruta they focus on supporting and challenging each other's interpretations by evaluating each other's interpretations based on evidence from the text.
Next the students apply the PaRDeS methodology of traditional Jewish text study to The Outsiders engaging in multiple levels of analysis and construction of personal meaning.
The students then intensify their analysis of the novel through the ethical and social-emotional lens of bystander, upstander, perpetrator and victim. Working with their hevruta they not only deconstruct the novel through this lens, but they analyze and make connections to their own lives as well.
Halachic Integration: As the students near the completion of the novel they engage in a beit midrash focused on biblical, rabbinic and medieval texts about the halacha that could be connected to events that take place in the novel. They explore halacha concerning; treatment of orphans, murder, self-defense, grudges and the value of life.
Culmination: Our Outsiders unit at Yavneh Day School culminates in an assignment called You Be the Judge. The students take the role of JFS (Jewish Family and Children's Services) social workers who must present each boy's (the characters in the novel) case to a Beit Din. Their recommendations to the Beit Din are based on applying their understanding of the novel, their interpretation of secular law, and their analysis  of Jewish law and ethics.
Entrant Bio(s)
Jenessa Schwartz teaches middle school English-Language Arts classes through a collaboration with Global Research and Jewish Studies teachers. She graduated with a BA in English and Theatre from Warren Wilson College. She received a Masters in Education from NYU. Jenessa loves talking with students about literature, helping them make connections between the characters in books and themselves. She also enjoys helping students become confident writers who can ably and eloquently express themselves. In her spare time, Jenessa enjoys practicing yoga, belting out showtunes in her kitchen, and spending time with her husband Mike and her kids Ramona and Solomon.
Jamie Zimmer: Born in Cleveland, OH, raised in Melbourne, Australia and matured in Tel Aviv, Israel, Jamie Zimmer comes to Yavneh with a wealth of Jewish communal and educational experience. A graduate of the King David School and former head of education for Netzer Australia, Jamie earned her BA in Journalism and Communications from Monash University in Melbourne, where she minored in Jewish History and Hebrew.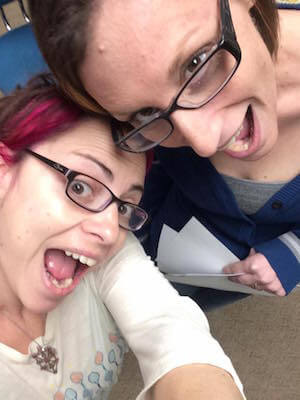 This entry has been tagged with the following terms: