Literature and language are difficult ideas for students to grasp. My students translate these ambiguous concepts into tangible projects requiring them to explore abstract ideas, bridge their connections, and create symbolic representations with technologies and strategies that commit their analyses to long-term memory and store them as knowledge.
Entry Narrative
The Necessity of a New-Wave Project Structure
No matter what subject we teach, whether it's Jewish history, math, Gemara, or science, we all tend to think our subject is the most important one our students will learn. And why shouldn't we? We, as educators, have spent our lives studying and applying the knowledge we have gained through our disciplines to our own lives and are now trying to impart that knowledge, and hopefully interest, to our students. But despite what subject or what grade level we happen to teach–be it elementary, middle, high school, or even college–we all are faced with the same questions: "Why do I need to know this? How is this going to help me? When are we going to use this in the real world?" And while we may roll our eyes after we have heard this for the seventeenth time that day, our students still deserve an answer.
For me, the answer to "Why do we learn English?" is simple: communication. We communicate abstract ideas by telling stories. We write these stories down with letters and words. And we use these letters and words to send a message or teach a lesson successfully about all of the other subjects covered in school. However, conveying intangible ideas about language and literature is incredibly daunting to teachers whose students are being captivated by the hands-on projects and experiments happening in STEM departments. The type of interactive learning that occurs in the science, technology, engineering, and math departments is brilliantly structured in this manner for a reason.
Studies have shown that hands-on learning promotes more connections associated with long-term memory, thus helping kids learn and retain vital information they can recall and use later. I knew that reworking this idea and bringing tangible projects into my class would help my students also connect better with the often abstract and hard-to-grasp themes we deal with in the humanities department. In conclusion, I created a structured project outline that includes these types of hands-on projects detailed below that end with a tangible creation my students can engage with using all of their senses. I have continued successfully using this structure across multiple disciplines and grade levels with small modifications each time.
My Project Outlines/Lessons are structured like this with slight modifications each time they are replicated:
Resources

-Reading through our stories, documents, textbooks, etc.

Texts

Videos

Images

Abstract Concepts

-We point out

what

the author is doing and

how.

Understand (Analyze) symbolism, language, themes, tone, etc.

Reflect on these ideas in short journal entries.

Bridge/Build-

We discuss

why

the author is doing this and its effect on different audiences.

Learn (Evaluate) different strategies the author uses.

Explore and apply our own strategies.

Connect/Concrete (Create)-Each student designs their own project that shows their unique interpretation of the abstract ideas presented in the literature we discuss. They must have concrete/physical evidence that they have created at the end of this step.

Assessment of their understanding and connection to the above topics.

Project Outcome-The students identify what they have learned, skills they have gained, and objectives they have addressed.

Manifestation-Students share their projects with their peers and explore the role of both teacher and student in what they have learned through the process of getting to the end product.

Knowledge/Teaching

Present/Show/Share outcomes
Here are several examples of this project in action:
11/12th grade Girls World Literature

Metamorphosis

Clay Project (2017/2018)

11/12th grade Girls British Literature Romantic Symbolism Project (2016/2017)

10-12th grade Boys Global Studies Russian Culture Exhibits (2016/2017)

Student Reflections

Project Outcome Photos

11/12th grade Girls/Boys World Literature Perspectives Photo Gallery (2017/2018)

11/12th grade Boys/Girls World Literature Monsters and Metaphors Project (2017/2018)

Student Examples

11/12th grade Boys World Literature Outsiders Movie Pitch (upcoming)

11/12th grade Girls World Literature Outsiders Experiment/Field Research Project (upcoming)

This is also a project currently being designed in which students will identify the types of societies they exist in and groups they do not belong in. They will then be required to participate in a group where they are the outsider. Their field research will consist of a hypothesis about what they expect their experience to be like, notes and tangible evidence of what they gained during their research, and an oral/visual presentation to their peers about what they discovered as they explored new territory.
Overall Impact of Project Productions:
With each new project, we return to those driving questions I mentioned at the beginning of this narrative that our students have been asking us since preschool. If they were to ask me now (and believe me, they did) I would say that they "need to know this" so that they are able to view situations from others' perspectives and experience empathy and kindness. This "is going to help" them relate to others who may have different ideas than they do and ask questions to better understand their peers. They are "going to use this in the real world" every single day when they have to make tough and important decisions for themselves and communicate them respectfully. Our students will continue to ask these questions at every point in their educational journey. We are obligated to prepare and equip them with the tools and knowledge they need to articulate their own responses and grow as compassionate and supportive individuals.
Entrant Bio(s)
Bethany Webb has a masters degree in English literature with a focus in early American literature and rhetoric/composition. She has a background of work experience in creating and running the Center for Writing and Communication as a pilot program at the University of Memphis and has spent the last two years teaching at both the high school and college level. She currently teaches a rotation of English classes and cultural studies electives for all grades 9-12th at the Margolin Hebrew Academy. Among these are Language Arts, American Literature, British Literature, World Literature, and Global Studies. Bethany also teaches freshman-senior level English classes at Christian Brothers University. These college classes are centered around non-traditional students and are considered hybrid courses consisting of both in-class discussions and online supplemental learning. The classes she teaches here are Literature and Writing for Professionals and Advanced Reading and Writing II. Outside of school Bethany enjoys traveling, engaging with all animals, creating art in a variety of mediums, and immersing herself in cultural education by visiting museums, art shows, theater performances, food establishments, and many other experiences.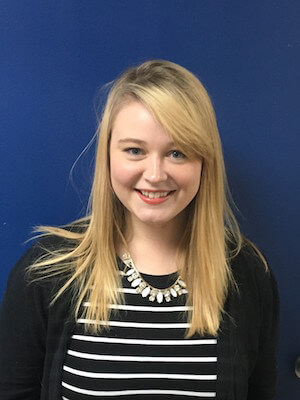 This entry has been tagged with the following terms: